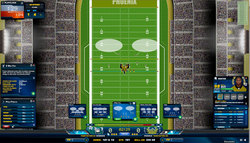 With more than a million visitors thus far, Quick Hit Football has become one of the largest online football games in the world
Foxboro, MA (PRWEB) December 21, 2009
Quick Hit, Inc. ("Quick Hit"), a leading developer and publisher of premium, free-to-play online sports games, today announced that Quick Hit Football™ has surpassed a million games in less than two months since its public launch. To celebrate this monumental milestone, the company is releasing its first major Update for the game and adding a host of new features, including a powerful new Skills System, favorite play tagging, new coaches, and nearly 20 new plays.
"The response to Quick Hit Football has been tremendous. With more than a million visitors thus far, Quick Hit Football has become one of the largest online football games in the world, and we are looking to make it even better with this Update," said Jeffrey Anderson, founder and CEO of Quick Hit. "We spent a lot of time interacting with our players to hear what they most wanted to see in the game. As an online game we can make our improvements in real-time, not wait for an annual release. We love the fact that our thriving community has a voice in the evolution of Quick Hit Football."
The Update's cornerstone feature is the one-of-a-kind Skills System that adds additional depth, strategy and excitement to Quick Hit Football. Every football fan knows that one of the best parts of the game is watching key players come through in the clutch. Skills give you the ability to call special moves in crucial game time moments. Even better, your players will be able to learn from more than 120 powerful skills as they grow, including:

Escape Artist for Quarterbacks to help them avoid the pass rush
Sledge Hammer for a Strong Safety to stop a running back dead in his tracks
Coffin Corner for Punters to pin the other team deep in their territory
Battering Ram for a Wide Receiver to break through press coverage
Jail Break for defenders to drive past blockers and hit the ball carrier
In addition to the Skills System, Quick Hit Football has added four new Head Coaches and 20 new plays. The Update also keeps the game easy to play by adding in dozens of other new improvements like tagging your favorite plays. This feature lets users easily find favorite plays – especially in the 4th Quarter when the pressure is on! For a complete list of these new features, read our Developer Diary.
About Quick Hit Football:
Quick Hit Football is a free, authentic football coaching game that doesn't require a credit card or massive download. Its compelling graphics, hard-hitting action and feature-rich game play take online sports games to a new level. Play head-to-head against Pro Coaches like Bill Cowher, Brian Billick, or Jimmy Johnson; take on Pro superstars, including Matt Cassel, Ray Lewis, and Brian Westbrook; or draft Legends onto your team like the famed Tony Dorsett, Deacon Jones, Steve Largent, Warren Moon, and Randy White. Unlike repetitive twitch-games, Quick Hit Football offers a persistent gaming experience that lets you build and manage a football dynasty. Play fast, fun, free online football games, earn fantasy points with every game, and watch your team grow. Hit the gridiron and create your team today at http://www.quickhit.com.
About Quick Hit:
Headquartered in the shadow of the world-famous Gillette Stadium in Foxboro, Massachusetts, Quick Hit, Inc. is developing premium, free-to-play, online sports games and entertainment for a global audience. Quick Hit's products fill a massive void in the sports industry by offering head-to-head competitions that combine a rich graphical environment, the accessibility of Adobe® Flash®, and the wide appeal of fantasy sports. Its first title, Quick Hit Football, is currently in Beta. For more information, visit http://www.quickhit.com.
Quick Hit, the Quick Hit logo and Quick Hit Football are trademarks or registered trademarks of Quick Hit, Inc. in the U.S. and/or other jurisdictions. Adobe and Flash are either registered trademarks or trademarks of Adobe Systems Incorporated in the U.S. and/or other countries. All other trademarks are the property of their respective owners. Quick Hit and Quick Hit Football are not affiliated with, endorsed or licensed by the National Football League, any National Football League team or the National Football League Players Association.
###