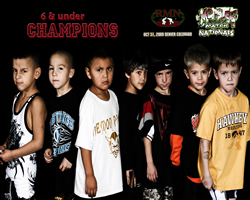 "This is a first-time event, but we really see it becoming the place to be in the future years." --- Ed Gutierrez
Mesquite, Nev. (PRWEB) December 23, 2009
In his continuing effort to bring athletic events to the CasaBlanca Resort Casino, hotel sporting events manager Christian Adderson has teamed with Ed Gutierrez of Denver, Colo., for the Jacobs Challenge World Championships youth wrestling event to be presented Jan. 9-10 in the hotel's Special Event Center.
The first of its kind gathering will include youth wrestlers from Nevada, Idaho, Arizona, Utah, Colorado, California, New Mexico, Washington and Oregon competing in various weight classes on eight mats for competitors ranging from kindergarten through ninth grade. The promoting body Rocky Mountain Nationals Events (RMNE Events) has been in business for ten years.
With 30 dates planned in 2010, The RMNE Series is considered the premier youth wrestling series in the country. The series is expected to bring together more than 15,000 along with 60,000 competitors during the season.
The idea of presenting youth wrestling at the CasaBlanca came when Adderson met Gutierrez at a convention in Denver. One thing led to another and the facilities combined with the close proximity to surrounding states turned an idea into reality.
"We have presented youth wrestling events all over the country in states like Florida, Michigan, Wisconsin, Washington and Oregon," explained Gutierrez, whose business also includes dedicated help from wife of 26 years, Julie, who handles the accounting elements of the events; along with sons Adam and Josh, both directors. "Mesquite offers so much from the facilities to the hotel rooms and a close proximity to other cities."
Gutierrez said wrestling offers life lessons to youth adding "The biggest lesson to be learned from wrestling is that you get out of it what you put into it. It's just as in life. Hard work and perseverance have their reward.
"This is a first-time event, but we really see it becoming the place to be in future years. And with airline flights being as cheap as they are now during a tough economy not to mention the affordability of staying in Mesquite, this event has everything going for it. Considering that this is the first event on our schedule, it provides the competitors with a chance to gauge the rest of their season.
"We have sure received a lot of inquiries about the Mesquite event and we are considering this to be a long-term event."
Other RMN events are presented at world-class facilities such as the Denver Coliseum, Disney's Wide World of Sports Complex (Orlando), Idaho Center (Boise), Magness Arena (Denver), Pan American Center (Las Cruces, N.M.), Pepsi Center (Denver), Selland Arena and the Toyota Center (Prescott).
Adderson said the wrestling event is yet another example of a continued push to bring special events to the CasaBlanca and Mesquite.
"Since Labor Day, we have had an endless run of special events including the Smokin' in Mesquite BBQ competition, the Mesquite Marathon; the Teacher Games along with the Nevada Senior Open and the Nevada Open golf tournaments," said Adderson. "About the time we conclude one event, we're on to another one and the wrestling tournament is an example of that."
Further information can be found at http://www.rockymountainnationals.com or by calling Gutierrez at 303-635-1549 or by calling Adderson at 888-711-4653, ext. 51.
Mesquite is situated about 80 miles northeast of Las Vegas off I-15.
Contact: Mike Henle, 702-279-3483
###