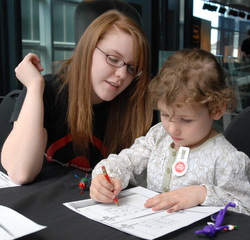 Corning, NY (Vocus) December 23, 2009
A free Fire Up your Future event at The Corning Museum of Glass will offer local middle- and high-school students an opportunity to learn more about opportunities to get involved at the Museum, and about ways to integrate the arts into their futures. The event will take place on Friday, January 8, from 6:00 p.m. to 7:30 p.m. in The Studio Lecture Room.
The event is aimed at bridging the gap between educational coursework, Museum experiences, and the career world that lies ahead. Students will also learn more about the Museum Explainer, Junior Curator and Youth Volunteer programs.
Teens can meet their peers who are already involved with the Museum, and talk with artists and Museum professionals. Special guest speaker, William Gudenrath, will discuss his experience as a musician and glassblower and will provide a live glassblowing demonstration.
Admission is free. Contact Kristy Bartenstein at bartenstkm(at)cmog(dot)org or (607) 974-3306 for details or to RSVP.
Details on the Museum's Teen Programs:
Museum Explainers
An in-depth training program for students interested in summer employment at the museum, this program gives students the skills they need to interact with visitors of all ages and teach them about the art, history, science, and technology of glass.
Junior Curator
This after-school program is for students interested in exploring careers in art, history, or museums, and for those who wish to enter the Museum Explainers program. Each year, 15 middle-school and high-school students learn how glass art is created, get a behind-the-scenes view of how a museum works, and curate an exhibition.
Youth Volunteer
Teens can learn how museums work while enjoying fun volunteer opportunities with their peers. Students are trained on behind-the-scenes information and activities. They then put that knowledge to work at special family programs while fulfilling community service and volunteer hours for school.
The Corning Museum of Glass (http://www.cmog.org) is home to the world's most comprehensive and celebrated collection of glass, with more than 45,000 objects reflecting 3,500 years of glassmaking history. An independent, non-profit, educational institution, the Museum is dedicated to the art, history, science, research and exhibition of glass. The Museum is open from 9:00 a.m. to 5:00 p.m. every day and from 9:00 a.m. to 8:00 p.m. in the summer. Children and teens, 19 and under, receive free admission.
###