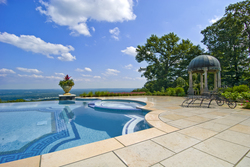 We constantly try to provide the latest swimming pool & landscaping features to our clients. The projects showcase some of the best amenities the swimming pool industry offers. It is an honor to be recognized with the best pool builders. -Chris Cipriano
Ramsey, NJ (PRWEB) December 23, 2009
Cipriano Custom Swimming Pools & Landscaping (http://www.PlantNJ.com ), a Ramsey-based swimming pool & landscaping design and build firm, has received two Gold and two Bronze awards from the Northeast Spa and Pool Association (NESPA) at an awards ceremony held recently in Woodbridge, NJ. The award-winning swimming pool projects are located in Kinnelon, Mahwah, and Saddle River, NJ. The honor recognizes Cipriano Custom Swimming Pools & Landscaping as a regional leader in luxury swimming pool, landscaping and water feature creations.
The NESPA awards judge each pool based on the aesthetic features of the installation, such as waterfalls and landscape or other amenities that were part of the pool environment. The water projects were further judged based on workmanship, design and safety measures installed.
Cipriano Custom Swimming Pools & Landscaping's Gold winning projects include an vanishing edge pool (also known as a infinity or negative edge swimming pool) with a roman end located on 10 secluded mountaintop acres in Kinnelon, NJ. A large spa and a sun shelf at the shallow end were added to allows users a chance for active and passive recreation. The pool include waterline tile consisting of a two-color hand-crafted iridescent glass tile set in a Grecian key pattern. To carry over the design, a three-color iridescent glass tile Grecian key and border was added to the bottom of the pool along with 200 fiber optic star lights, three multi-color wall mounted lights and four illuminated deck jets at the corners to accentuate the pool's features at night. The pool also features the latest in high efficiency/low maintenance options, variable speed pumps and high efficiency heater along with the in-floor cleaning system to reduce energy consumption by 70% while maintaining a 90% clean swimming environment.
The second Gold winning project in Mahwah, NJ, feature a pool with waterfalls and living boulders. Three separate waterfalls were constructed to create varied water and sound effects. In addition, Cipriano Custom Swimming Pools & Landscaping installed a volcanic fire pit next to the oversized spa. Natural gas powered flames rise from a bed of crushed glass and light up the niche created with natural boulders. Finishing touches include a running bond of slate and iridescent glass mosaic tile at the waterline and step and shelf-banding and color-changing fiber optic lights to create shadows, depth and accents on the stone of the waterfalls.
Cipriano Custom Swimming Pools & Landscaping's Bronze winning project in Mahwah, NJ, features a custom swimming pool, spa and waterfalls to transform the home into a "staycation" destination for its residents. Prior to engaging Cipriano, the property had a deck and play set, but was improperly graded and the yard was too wet to enjoy. To incorporate all features requested by the homeowner including a sun shelf, spa, waterfalls and a water slide, the pool was constructed at 900 square feet.  The luxurious waterfall, accented with three to twelve-ton weathered field stone boulders to create a natural look, ran down a large boulder to create another waterfall feed pond.  Other outdoor living structures included a 800 square foot outdoor kitchen, a fireplace in the outdoor living room and a survivor style fire-pit.
The second Bronze award winning project in Saddle River, NJ features a koi pond that users could relax next to after a stressful day. Tall flowing grasses were used to create a secluded area surrounding the pond while water lilies provided shade for the large amount of fish swimming in the structure. Cipriano Custom Swimming Pools & Landscaping created a waterfall and a platform for a bench using natural stones.
In addition to the NESPA Awards, Cipriano Custom Swimming Pools & Landscaping recently won two prestigious Association of Pool and Spa Professionals International Awards of Excellence. 
About Cipriano Landscape Design:
Celebrating 20 years in business, Cipriano Landscape Design is a recognized industry leader in custom residential landscapes, masonry and swimming pools. After a little more than a decade in business, the company catapulted to the top of the state's luxury landscaping and pool industries when it was awarded a $2.5 million residential landscape project. Today, along with the Ramsey, NJ office, the Cipriano family owns a 10-acre farm and nursery in Mahwah, NJ, where large caliper specimen trees and other rare plants are grown. With a design office headed by Certified Landscape Architect William Moore, the Cipriano team won the Northeast Pool & Spa Association's 2007 Best in Competition swimming pool award and a Silver medal at Association of Pool & Spa Professional's International Awards of Excellence.  In 2009, the Cipriano team earned the Certified Building Professional (CBP) credential from the APSP, one of only four custom pool buildings in Bergen County to have earned the certification. 
About Northeast Spa and Pool Association:
The Northeast Spa and Pool Association exists to create a professional climate in which to advance commercial activities, and to address the current and future needs of the pool and spa industry. NESPA also serves as a source of product and safety information for the ultimate consumer. For over forty years, NESPA has been affiliated with the Association of Pool & Spa Professionals (APSP), first as that organization's Northeast Chapter, and subsequently, as the administrator of the five APSP Chapters located in a territory known as Region I. NESPA is also the primary communicator to over 700 individual APSP members in the area.
###