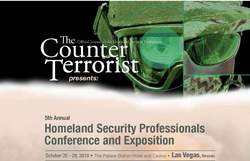 Miami, FL (PRWEB) December 23, 2009
The Counter Terrorist magazine's 5th annual, much acclaimed conference provides First Responders with professional education and networking opportunity.
Against a background of threats to the USA and the growing specter of recent acts of domestic terrorism, the Secretary for Homeland Security, Ms. Janet Napolitano stated:
"These recent arrests …. (Mean) that home-based terrorism is here."

Five Americans held in Pakistan accused of cooperating with Al Qaeda
Chicago Businessman charged with planning the attacks in Mumbai
Denver man charged with terror plot
American Somali connections with international terror
Radicalized jihadists such as the Fort Hood attacker
And the trial of the mastermind of the 9/11 attacks in NYC all make it more important than ever that you attend this conference.
This packed, week long conference provides a platform for professionals to learn together and discuss counter terrorist strategies and tactics, crime fighting techniques, and much more. This year's conference features an exciting line-up of the top speakers in the country. Held at the Palace Station Hotel and Casino in Las Vegas NV, the event is considered the Homeland Security professionals most important conference.
Currently in its 5th year, the former Gulf Coast Terrorism conference has moved to Las Vegas to accommodate the demand for a large, important gathering and exchange on the West Coast. The conference provides an important opportunity for top professionals to exchange know-how. Participants will have the opportunity to network while getting a completely educational experience in more than 10 different speaker sessions. In addition, there will be an Exhibit Hall, dedicated to bringing First Responders up to date with new technologies in fighting crime and terror.
Some areas of focus for the conference:

Evolution of Mass Hostage Siege Tactics
Protecting Large Gatherings from Sporting Events to Casinos
Victimizing Innocent Citizens – The Attack in Mumbai, India
Psychological Impact and Implications to the First Responder Community
Meet with leading suppliers providing the tools you need to stay safe!
And much more!
Keynote Speakers:
John Giduck
John has trained state and federal law enforcement officers and agents, including DEA, FBI, US Marshal's Service, and SWAT teams throughout the US. He has served as a consultant on various international and terrorism subjects, and as a Russian Organized Crime instructor, for numerous federal and state agencies. He currently devotes his professional time to the Archangel Group, providing anti-terrorism consulting and training. He is a graduate of the FBI Citizen's Academy and holds the highest level expert certification in Homeland Security through the American College of Forensic Examiners International, and is a former member of the Executive Advisory Board of the American College of Homeland Security and Police marksman magazine.
Major Joseph Bail
Joseph Bail Jr. is currently the SWAT Commander for the Chester Police Department, where he has been employed for 37 years and currently holds the rank of Major. He is a CALEA certified instructor in several fields and has lectured to national and international Special Operations personnel. He has also presented at several educational institutions focusing on school violence and preparations for terrorist events. As a Senior Consultant and Trainer for the Archangel Group, Joseph traveled to Russia after the Beslan school crisis on a fact finding trip for the book "Terror at Beslan" with the author John Giduck. Major Bail is currently the only active American Law Enforcement Officer to interview the Russian Special Forces personnel that responded to the Beslan massacre.
Featured Speaker:
Colonel Jennifer Hesterman, U.S. Air Force (ret.)
Colonel Jennifer Hesterman is a full time professor of counter terrorism studies for the American Military University; and a contributing editor for The Counter Terrorist magazine. She also works as senior analyst for the MASY Group, a global intelligence/risk management firm. Her exceptional military career includes over 21 years of active duty, 3 Pentagon tours as well as Capitol Hill and think tank experience, commanded at multiple levels.
###