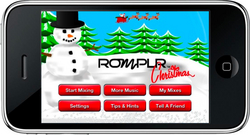 Gifters and receivers alike have proved that they want their media to be interactive
San Francisco, CA (PRWEB) December 22, 2009
Moderati, developers of the popular Romplr Remix platform, are wishing iPhone and iPod Touch users a Merry Mixmas with the release of Xmas Romplr: Remix available for 99 cents, the ultimate way to put your own spin on the holiday season.
Xmas Romplr allows users to remix modern versions of classic holiday tracks including "Dance of the Sugar Plum Fairy", "Green Sleeves", "Jingle Bellz" and "Ukrainian Bell Carol", with full control of 8 loops, samples, and sound effects. Once the song has been remixed, users can save or upload their Christmas creations online, to Facebook, or send them in the form of e-cards to friends and family.
Moderati is also trying to bring some yuletide cheer to those less fortunate this month by encouraging users to participate in some holiday phil'app'thropy, donating part of the proceeds from sales of the app to charity.
"Xmas Romplr comes just in time for the holidays when historically we have seen a surge in app usage as many new iPhone and iPod Touches are given as holiday presents. 2009 was a banner year for Moderati and we're sharing the Christmas cheer with our latest release," said Jon Vlassopulos, CEO of Moderati.
Gifters and receivers alike have proved that they want their media to be interactive – the rise of social media, mobile gaming, and interactive TV have paved the way, but until now, music has not been an interactive experience for consumers. With Romplr, users can now engage with music in a whole new way by creating their own versions of tracks and being part of the creative process.
Xmas Romplr is the latest in a series of Romplr music applications to be produced by Moderati. Over the past six months, Moderati has launched successful and critically acclaimed Romplrs for 50cent, Soulja Boy Tell 'Em, Jeremih, the Alchemist, and LMFAO. In addition, Moderati has launched Romplr Dance, which contains three original dance tracks that can be remixed by fans.
Xmas Romplr is available in the AppStore or at http://bit.ly/xmasromplr.
About Moderati, a Bellrock Media Company
Moderati is a digital content agency that helps media companies and consumer brands connect with their consumers through the creation of engaging entertainment experiences. The company delivers the best digital content to consumers when, where and how they want it, with a mission to engage and entertain through creativity, technology and humor. Moderati has deep roots in mobile content and entertainment, and has been a trusted partner of top-tier wireless carriers and major media companies since 2001, having delivered over 100M individual content downloads. The company is a subsidiary of Japan's leading branded entertainment production company, Bellrock Media, backed by Yoshimoto Kogyo, the largest pure play media company in Japan with interests in TV, talent representation, film, music, physical venues and consumer products. Moderati is headquartered in San Francisco, CA.
PR Contact
VSC AppLaunchPR For Moderati
Michal Habdank-Kolaczkowski
650.302.1209
###