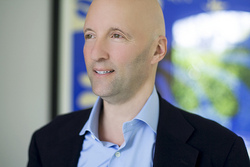 New York, NY (PRWEB) December 22, 2009
The Cleantech Group™, providers of leading global market research for the clean technology industry, along with Deloitte, which provides financial advisory services to cleantech companies, recently released 3Q09 results for clean technology venture investments in North America, Europe, China, and India totaling $1.59 billion across 134 companies.
Cleantech venture investment continued its recovery in the third quarter of 2009, after declines in 4Q08 and 1Q09, paralleling the global economic downturn. Following a rebound in 2Q09, the 3Q09 total is up a further 10 percent compared to the previous quarter, yet down 42 percent from the same period a year ago.
Commenting in response to these developments, prominent investor Mouli Cohen said "The billions in government funding being allocated globally in clean technology have begun emboldening private capital, which has in turn helped propel clean technology to the leading venture investment sector, now eclipsing biotech and IT. The two largest venture deals, Solyndra and Tesla Motors, and the largest IPO, A123 Systems, were all recipients of government funding."
Cohen went on to cite the hundreds of millions of dollars in new venture funds as evidence of investor confidence and momentum, including $1.1 billion in two new funds by Khosla Ventures alone. "The extension of tax credits for renewable-based power generation, along with the government stimulus and regulatory requirements to meet renewable portfolio standards, are helping to drive continued investment on the part of VCs and utilities into the cleantech sector," said Cohen. "Utilities are increasingly bringing their access to capital to the sector through direct investment and power purchase agreements, driving new projects and increased capacity." As for the future of clean technology, Mouli Cohen expects this trend to continue as cleantech projects become more economically viable and desirable for utilities.
About Mouli Cohen
Mr. Cohen is a successful entrepreneur who has founded and developed successful ventures in the biotechnology, high technology, digital media and entertainment sectors. He has balanced his success in business with extensive philanthropic activities. Over the years he has supported children's charities, food programs, medical research, and the arts as well as education projects both in the US and abroad.
###