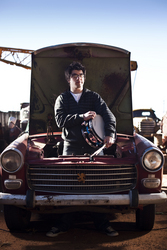 "Much like Michael Jackson, I am a very private person."
(PRWEB) December 24, 2009
(PRWEB) December 24, 2009Drumming sensation, Cobus Potgieter, who has taken the cyber entertainment world by storm, has amassed over a million views in the last month on his four song mini-tribute to pop legend Michael Jackson.
Including the hits 'Billie Jean', 'Smooth Criminal', 'Black or White' and 'Beat It', the tribute saw viewers flock to the YouTube site after the pop icon's death in July, where Potgieter has been hailed the site's 79th most subscribed musician.
To date, Cobus has garnered over 27 million for his drum covers with his popularity growing each day. Last week, views of his videos grew by almost a half a million views in one day, making him the 45th most viewed musician during the period.
Potgieter found his calling onto the drumming scene at a church outreach, the 23 year old engineering student and video producer says it was love at first beat. "The drummer in the church band was showing us some tricks on his drum set and invited a few of us try some basic beats. I played it perfectly the first time round and from then I knew I would be drumming for the rest of my life."
He says that at the time he had no idea he would become so famous for his talent. "I have never had drumming lessons and honestly, I didn't even know I loved drumming until that day."
Potgieter has been a making major waves on the internet since 2006 when he posted his first video. He July-posted drum cover of the Kelly Clarkson's hit song; 'My life would suck without you' has notched up 837,000 views in just five months.
Despite being astoundingly popular in cyberspace, Potgieter maintains a very quiet lifestyle and is happy to keep it that way as his following is mainly outside of the South African borders. "Much like Michael Jackson, I am a very private person and I love the fact that I am not easily recognised here at home. In other countries, it's a different story."
The self-taught drummer, who started off playing by ear but has learnt a few things along the way. "Through responses to my blogs and uploads, many professional drummers have given me some tips on the way and I am really glad because you can never stop learning." He has recently released a DVD featuring a compilation of his published tracks and a set of lessons teaching viewers drumming from his perspective.
The highly anticipated DVD, which started shipping in late November, has a lot of his fans willing to wait up until the early hours of the morning to buy the disc online, according the different time zones.
When asked why drumming he answers with a confident: 'There's nothing else for me'. He has no definite plans just yet as to what his fans can expect. "This talent came unexpectedly and I don't want to make to many plans as all the blessings that I have so far have come naturally. For now I will concentrate on the DVD and the merchandise that is currently available," he concludes.
In terms of SA musicians, Cobus has the second most fans on Facebook, second only to the Parlotones. He is closely followed by Goldfish.
###