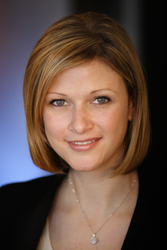 "Her passion for excellence, creativity, and professionalism will help take Shift Worldwide to the next level." Paul Trout, CEO, Shift Worldwide
Chicago, IL (PRWEB) December 22, 2009
Virtual communications consulting company Shift Worldwide (http://www.shiftworldwide.com) announces that Jennifer Johnson has joined its executive team as Chief Talent Officer. She will be based in New York City.
"Jennifer is a highly valued asset to the Shift Worldwide team," said founder and CEO, Paul Trout. "Her extensive knowledge and understanding of the marketplace, skill at building excellent rapport with candidates and employees as well as her proven ability to sense the right "fit" between candidate and position makes her the perfect person to serve as our Chief Talent Officer. Her passion for excellence, creativity, and professionalism will help take Shift Worldwide to the next level."
As Chief Talent Officer, Johnson is charged with all facets of recruiting, human resources and growth strategies. Over the past 12 years, she has recruited and hired hundreds of professionals first as the Director of Recruiting at a large AmLaw 100 law firm and then at a boutique recruitment company in New York City, where she placed professionals worldwide in the legal marketing and law practice management industry.
Johnson has been a featured speaker for numerous legal associations and business organizations on topics of professional and career development as well as structuring and leading teams. In addition to being a published author of articles in various publications (including the New York Lawyer and the Association of Legal Administrators magazine, Legal Management), her expertise has been sought out by CBS MarketWatch as well as The American Lawyer and Law360.com.
Johnson is a member of the Legal Marketing Association (LMA), a past Board Member of the International LMA Board of Directors, and Metro New York Chapter LMA Board of Directors President in 2008. She is a graduate of Baylor University with a B.A. in Political Science.
About Shift Worldwide:
Shift Worldwide is a virtual communications consulting firm that produces and distributes original content for global business audiences and its clients. It is a virtual company that is "headquartered" in Chicago, Illinois, USA, but on any given day, employees are free to work from any location worldwide. It has additional team members based in Wisconsin, New York and Europe. More information is available at http://www.shiftworldwide.com.
# # #