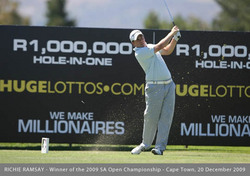 I had no thought of laying up, because I was so sure of myself over the shot
(PRWEB) December 24, 2009
Richie Ramsay, from Aberdeen, Scotland, beat Shiv Kapur of India to take the honours at the 99th South African Open Golf championship, held at the Pearl Valley Golf Estate, just outside of Cape Town, South Africa, from the 17th to the 20th of December 2009. Ramsay won by beating Kapur in a tense playoff, having ended the final day on a 7-under-par 65.
The South African Open is the oldest national open championship on the European tour and is televised to over 90 countries around the world. The event attracted some stalwart European tour players, including Denmark's Anders Hansen and 2008 Champion Richard Sterne. It further marked PlayUKInternet's first sponsorship of a major European tour event.
Past champions include some of the biggest names on the professional golfing circuit such as Ernie Els, Retief Goosen, Trevor Immelman and Mark McNulty.The Pearl Valley Golf Estate is a stunning venue that offers spectacular beauty and a very challenging layout.
PlayUKInternet put ZAR 1,000,000 up for the first player to hole the 196m 15th on the final day of the event, and despite some impressive accuracy, and an ace by another Scot (Callum Macaulay aced the 15th on day 1), none could quite hit the nail on the head.
The playoff hole was the 550m, Par 5 18th, which Kapur had played very well in the opening rounds. Ramsay however, was extremely confident after his bullocking day 4 run, and when discussing his second shot, from right of the fairway, said, "I had no thought of laying up, because I was so sure of myself over the shot".
PlayUKInternet congratulates the latest South African Open winner along with the entire field that took part. Professional golf represents most of the values that we hold true, including integrity, perseverance, and above-all, huge rewards for calculated risks that turn out successfully.
###