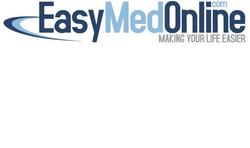 Our goal is to further improve the user functionality, capability and reliability of assistive mobility products that are so important to the millions of Americans depending on them. The MobilityAlert TM option is a unique, low-cost, proven technological
Seal Beach, CA (PRWEB) December 23, 2009
EasyMedOnLine, a family-owned, industry leader in providing quality power wheel chairs, scooters and other assistive mobility products to those in need, announced today a new technological advance to their line of power wheel chairs and power scooters. Starting in mid- 2010 EasyMedOnLine will offer the MobilityAlert TM capability on select power wheel chairs and scooters.
Ryan C. Lawton, President of EasyMedOnLine, explained, "Our goal is to further improve the user functionality, capability and reliability of assistive mobility products that are so important to the millions of Americans depending on them. The MobilityAlert TM option is a unique, low-cost, proven technological improvement combining RemoteDiagnosticsTM capability, MyHealthTM capability and a ContactNowTM wireless point-of-contact capability designed to enhance and improve the operation, maintenance and reliability of power wheel chairs and scooters using secure, non-intrusive networking technology."
Harvey P. Lawton II, Chief Technologist of EasyMedOnLine, originally pioneered the concept of remote diagnostics in 1994. His application of remote diagnostics for today's modern power wheel chair includes automatic background collection of chair electrical-mechanical hardware status, chair historical and current GPS positioning information and chair performance data. This chair data is remotely monitored and analyzed by EasyMedOnLine for normal and abnormal operating conditions. The chair user - or a caregiver or a family member - is then kept informed of their chair's condition. The result: increased user confidence through awareness, new conveniences and improved reliability.
The MobilityAlertTM option also provides MyHealthTM capability that offers real time user health monitoring and recording while the chair is in use. Health monitoring parameters can be tailored for specific health conditions of the chair user. Recorded data can be provided to medical care providers as part of ongoing health monitoring. In the event of a user non-responsive condition or emergency situation - heart attack for example – the chair, employing its ContactNowTM capability can automatically notify a caregiver, a family member or emergency services.
EasyMedOnLine is committed to continually create technological improvements that will benefit users of assistive mobility products. Additional improvements are in the planning and development stage at EasyMedOnline that will greatly enhance the user-product interface and experience.
About EasyMedOnline:
Established in 2006, EasyMedOnline is a complete DME provider focusing on power mobility equipment. EasyMedOnline provides a full line of the highest quality equipment nationwide at the most competitive prices.
EasyMedOnline Mission Statement:
EasyMedOnline's mission is simple, to provide patients with only the finest quality products and services while allowing the convenience of shopping and browsing in the comfort of your own home.
###