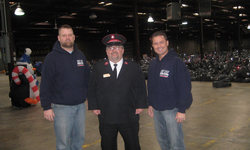 Material gifts this Christmas all carry a price tag, but the true value behind pure generosity and concern for one another is priceless.
Greensboro, NC (Vocus) December 23, 2009
Anna Disorbo, owner of MBM Moving Systems, has brought joy to an underprivileged family this Christmas. Disorbo and her first class woman-owned Moving Company, MBM, have volunteered to sponsor a family through the Salvation Army's beneficial Adopt-A-Family program. Each member of the family will receive at least two special gifts and everything they need to last through the holiday season with smiles. MBM Moving Systems wants to make sure their family has enough food for a proper holiday feast.
MBM Moving Systems and the Adopt-A-Family program go beyond simply donating new gifts. A detailed inventory of each family's needs is taken. The Salvation Army then ensures that these families receive the appropriate food and gifts on the week before Christmas. These gifts include toys, clothing, personal toiletries, and household items. Sponsors, like MBM, also receive information regarding the family's utilities and heating sources in order to pay those bills for the family.
Anna Disorbo's determination to help local communities has moved her to use MBM to make a positive difference in a family's life. Matt Moran, Executive Director of MBM, was appointed to run the campaign and deliver the gifts to the Salvation Army. At the warehouse, Matt was filled with emotion to see the amount of gifts that had been donated. Despite such difficult economic times, there are still selfless individuals, like Anna Disorbo, who take the time to spread the joy of the holiday season.
This year alone, Anna has contributed to several charities. Her most memorable donations were to the Breast Cancer Foundation. MBM has a special place in their heart for people fighting breast cancer. In fact, one of there own, Sandra Moran, mother of Matt, currently battles the lethal disease.
MBM Moving System hopes their example will allow others to realize that sharing is caring. The company strives to give back more and more to the community every year.
This Christmas, Anna Disorbo will be handing out Christmas cards to her coworkers and employees. Each card will read "Material gifts this Christmas all carry a price tag, but the true value behind pure generosity and concern for one another is priceless."
###