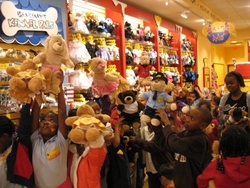 It really is exciting to see how happy these children are while they are picking out their bear.
Tampa, FL (PRWEB) December 23, 2009
Any day is a good day to adopt a bear with heart. But two days is twice the excitement. Adopting a bear is fun but creating one, stuffing it, choosing a heart, clothing, and naming it is an event that Tampa area Boys and Girls Club children will not soon forget.
This year, Florida business insurance agency, Nusurance, enlisted the help of SUNZ Insurance Company, a Florida workers compensation carrier in St. Petersburg, and ReadytoQuote.com an online insurance marketing firm to give the children from the Tampa Boys and Girls Clubs two Build-A-Bear Workshop parties. Giggles and smiles were the order of the day as 25 children from the Boys and Girls Clubs of Tampa Bay got elbow deep into the project at the Westfield Shopping Center in Brandon, Florida on Friday December 11th, then 25 more children got to adopt bears at the International Plaza Build-A-Bear Workshop on Monday December 14th.
Glen J. Distefano, Vice President and Chief Operations Officer of SUNZ Insurance said "We are thrilled to be a part of this event this year and are happy that our part enabled Nusurance to give more parties this year."
"It really is exciting to see how happy these children are while they are picking out the bear they are going to adopt, then dressing it and making it match their personality." Vice President of Adviatech – ReadytoQuote.com's parent company, Jason Bland continued, "As a second year participant with Nusurance we feel especially grateful that in spite of the economy, our company has substantially grown this year and that we are able to give some of that prosperity to children here in our community."
Children got to pick their favorite bear to be stuffed and then waited anxiously for the "Heart Ceremony". The choosing of the heart of the bear is very important because the children get to decide what their bear is all about. The heart of course is the life of the bear.
Once the heart is selected, the next step is selecting the outfits, and what a riot that turned out to be. Each child picking an ensemble that best reflected what their bear represented to them. A personal choice to be sure, it told everyone how special those bears were to the children.
The best was saved for last. The "Adoption Ceremony" is very special and momentous as the kids get to not only officially name their fuzzy friends, but also adopt them to take home. The most solemn part of the ceremony was the pledges each child gave to care for and love their special bears.
"I was thrilled to be able to double our efforts for the Tampa area Boys and Girls Club children and hope that we can double this effort next year," said Christopher Kazor, Principle agent of Nusurance Corp.
The adults had just as much fun as the children as they watched the kids make their bears and relived memories of their own childhood.
"Build-A-Bear is a great concept and helps build character for the kids," Kazor went on to talk about how he "…chose this type of charitable event because I have a strong desire to participate directly and to see how donations are put to use."
Nusurance plans to make this an annual event and to expand to every city where Nusurance has an agent. The goal for next year is to hold workshops in Tampa, Sarasota, Tallahassee, and Atlanta, Georgia.
Sunz Insurance Company is a St. Petersburg, Florida based workers compensation carrier and can be reached at 1.800.684.2157 or online at http://www.sunzinsurance.com.
Nusurance Corporation is a Tampa, Florida based insurance agency and can be reached at 1.800.604.7249 or online at http://www.nusurance.com.
ReadytoQuote.com of Adviatech Corporation is an online insurance marketing company based in Tampa, Florida and can be reached at 1.800.504.8593 or online at http://www.readytoquote.com. Boys and Girls Club children hold up their bears.
###