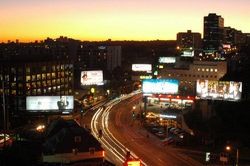 West Hollywood, CA (Vocus) December 23, 2009
Whether you want to enjoy an elegant dinner with close friends, mix and mingle at a nightclub soirée, or rock out till the ball drops, WeHo holds the experience for you this New Year's Eve. Only in West Hollywood will you find the notorious Sunset Strip, eclectic Santa Monica Boulevard (home of So Cal's premier gay scene), and the chic Avenues of Art & Design – each with their own array of innovative establishments making up WeHo's cutting-edge nightlife and world-class dining.
With such diverse districts, West Hollywood offers something for everyone. For a more complete list of New Year's Eve events, go to http://www.visitwesthollywood.com and click on "Things to Do".
10 reasons to ring in 2010 in West Hollywood:
1. Skybar Speakeasy (@ Skybar at Mondrian, 8440 Sunset Blvd) Enjoy the beautiful view at Skybar this New Year's Eve at the Skybar Speakeasy themed party from 8 p.m. - 2 a.m. Admission is $150 (Hotel guests and Asia de Cuba patrons $125) and includes open bar and a champagne toast at midnight. Music by DJ Joe Greto. Email skybarla(at)morganshotelgroup(dot)com for VIP table reservations. 323.650.8999.
2. New Year's Eve @ RH (RH at Andaz West Hollywood, 8401 Sunset Blvd) Bid farewell to 2009 by indulging in Chef Archambault's celebratory four-course New Year's Eve menu. Price for the First Seating (5 p.m.) is $70/person; Second Seating (8 p.m.) is $110 per person, which includes a Champagne toast at midnight. Tax and gratuity not included. With its open, airy design and mid-century vibe, RH at Andaz West Hollywood is a fun, sophisticated and relaxed space to gather for the season's celebrations with family, friends and colleagues. Reservations required, call 323.785.6090 or visit http://www.westhollywood.andaz.com.
3. New Year's Eve Party at Eleven (@ Eleven Restaurant & Nightclub, 8811 Santa Monica Blvd) Eleven is hosting a Rough House Boys party with shows every hour and music for the night by DJ Paulo Ramirez. The party will have a complimentary champagne toast at midnight, a $500 balloon drop and party favors! Premium open bar is $99/person, or $55 with dinner reservations. Three-course dinner is $50/person 5:00 p.m. - 7:30 p.m.; or $65/person from 8:00 p.m. – 10 p.m. For dinner reservations and bottle service email vip(at)eleven(dot)la or call 310.855.0800.
4. New Year's Eve Party at The Roxy (@ The Roxy, 9009 Sunset Blvd) The Roxy is hosting a New Year's Eve bash (on twitter #NYEROX) with Mike Posner, 2AM Club, Shawn Chrystopher, Chris Young, and Fly Gypsy. General Admission tickets are $30, All You Can Drink (well & beer only) tickets for $55, or All You Can Drink (premium) tickets for $100. Bottle Service is also available - for info email RSVPROX(at)me(dot)com.
5. New Years Eve Masqerade Ball at Petit Ermitage (@Petit Ermitage, 8822 Cynthia St.) Celebrate the New Year with a palm reader, magician, DJ, & a burlesque performance while enjoying cocktails, hors d'oeuvres and a decadent midnight champagne breakfast! $200 to attend - ALL INCLUSIVE - and a portion of the proceeds will benefit the local non-profit Good Shepherd Shelter. RSVP at http://www.petitermitage.com by Thursday, December 24th. Masks and mask painting complimentary. Black tie optional/elegant carnival. Party starts at 9 p.m.
6. Hassle-Free New Year's Eve takeout by Lemonade (@ Lemonade on Beverly, 9001 Beverly Blvd) Let Chef & Owner Alan Jackson of Lemonade and Jackson Catering cook your New Year's Eve meal this year. Contact Lemonade by Monday, December 28th before 3 p.m. to place your order. Orders will be ready for pick up on Thursday, December 31st between 11:30 a.m. and 4 p.m. To see the full NYE menu visit: http://www.lemonadela.com/catering/christmas-catering-menu.
7. Hamburger Mary's Charity Bingo & Dance Party (@ Hamburger Mary's, 8288 Santa Monica Boulevard) Mary is hosting a Charity Bingo on New Year's Eve followed by a groovin' Dance Party.
8. New Year's Eve Black & White Party (@ House of Blues Foundation Room, 8430 Sunset Blvd)
The Foundation Room at House of Blues will be hosting a NYE Black & White Party 9 p.m. - 2 a.m. Tickets are $150 for members; $200 for non-members and includes a five-hour open bar 9 p.m. - 2 a.m, party favors, and a 9 p.m. - 11 p.m. buffet in Parish. The NYE concert at HOB is Erykah Badu, tickets are $99.50 GA and $50 for Foundation Room Member seats. VIP Prayer Room Rental also available for parties, for more info contact 323.848.5138.
9. New Year's Eve Menu at Gordon Ramsay at The London West Hollywood (@ Gordon Ramsay at The London West Hollywood, 1020 N. San Vicente Blvd) Enjoy a delicious meal in culinary excellence at Gordon Ramsay at the London West Hollywood. Early seating (5 p.m. - 7:30 p.m.) will have a five-course menu for $90, and late seating (8 p.m. - 10:30 p.m.), will have a seven-course menu for $140 including a champagne toast at midnight. To view the full menu and to make a reservation visit http://www.thelondonwesthollywood.com, or call 310.358.7788.Interested in making the night a mini vacation? Book the New Year's Eve Celebration package and get one night's suite accommodations, champagne toast upon arrival, dinner for two in the Gordon Ramsay at The London West Hollywood Restaurant (8 p.m. seating with champagne toast at midnight) and breakfast for two on New Year's Day in the Boxwood Café by Gordon Ramsay.
10. New Year's Eve at Cabo Cantina (8301 Sunset Boulevard) or Fiesta Cantina (8865 Santa Monica Boulevard) Start the night off right by taking advantage of the best Happy Hours in town! All drinks are two-for-one prices from 4 p.m. – 8 p.m. (and 10:30 p.m. – 12:30 a.m. at Fiesta). Both Cantinas are open from 4 p.m. – 2 a.m. and serving a full Mexican menu throughout the night. Complimentary champagne toast and party favors will be provided. PLUS! Return the next day to nurse that NYE hangover with Bottomless Mimosas and Bloody Marys for only $9.95 until 3 p.m.! Also offering a special $1.99 Hangover Burrito, in addition to the Mexican brunch menu. Both Cantinas will be showing all Bowl Games on HD Flat Screen TVs.
View the full list of NYE happenings in West Hollywood at http://www.VisitWestHollywood.com then click on "Things to Do" to view the calendar. More than 30 great options listed on New Year's Eve including festive dinners at stunning restaurants like SUR, Cecconi's, BLT Steak, BOA Steakhouse, Katana, Tinto Tapas and more!
ABOUT THE WEST HOLLYWOOD MARKETING & VISITORS BUREAU
Located at the foot of the Hollywood Hills in the heart of Los Angeles and just 1.9 square miles in size, the city of West Hollywood rivals the world's most exciting travel destinations. Visitors can spend their days shopping in the colorful design district, lounging at a rooftop hotel pool, or visiting one of the area's cultural attractions. And when the sun goes down, West Hollywood really heats up with world-class dining experiences and the legendary nightspots of The Sunset Strip and Santa Monica Blvd. The city's small size and central location make it a friendly, walkable haven for travelers.
The West Hollywood Marketing & Visitors Bureau is a 501(c) non-profit organization dedicated to marketing the City of West Hollywood as a "living forward" visitor destination to business and leisure travelers by promoting awareness of the city's unique location, image, businesses and industries and by providing support for the city's economic development efforts. For more information on West Hollywood's cutting edge businesses or to plan the ultimate getaway, please visit http://www.visitwesthollywood.com. For the latest offers and tips on living like a West Hollywood insider, visit http://www.WHinsiders.com.
Media Contacts:
Andy Keown, Director of Communications
310.289.2525 x11
keown (at) visitwesthollywood (dot) com
Kristen Trzcinski, Media Manager
310.289.2525 x14
trzcinski (at) visitwesthollywood (dot) com
###