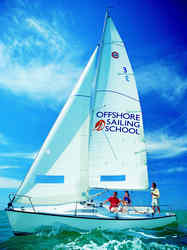 "We are thrilled that Offshore Sailing School, one of the country's leaders in sailing training courses and vacations, is now a sponsor of The Leukemia Cup Regatta," says Liza Munson, Vice President Campaign Development, The Leukemia & Lymphoma Society
Fort Myers, FL (PRWEB) December 23, 2009
Offshore Sailing School announced today a special alliance with The Leukemia & Lymphoma Society, providing $500 of its Learn to Sail and Performance Sailing course packages offered on select dates to The Leukemia & Lymphoma Society (LLS) for the fight to cure blood cancers.
"Sailors across the nation are already tuned into supporting The Leukemia & Lymphoma Society by raising money through Leukemia Cup Regattas each year," explains Doris Colgate, Offshore Sailing School CEO and president. "With so many people affected by lymphoma, leukemia and myeloma we are reaching out to new sailors with a sail-training experience that will help change the lives of those suffering from blood cancers."
The five-day courses are offered at South Seas Island Resort on southwest Florida's Captiva Island. Known as "Florida's Tahiti" this popular destination resort covers more than 300 acres surrounded by the Gulf of Mexico and Pine Island Sound. "South Seas is a village dedicated to preserving our world through green activities," says Colgate. When not sailing and learning, there are many other activities to pursue including tennis, golf, jogging on trails, bicycling, swimming in pools and the Gulf of Mexico, kayaking, walking miles of shell-strewn beaches, visiting the Ding Darling Wildlife Preserve and Shell Museum on Sanibel Island, and enjoying the natural environs of these barrier islands.
Participants with little or no experience as well as those with mid-sized sailboat skills may start from scratch or take an advanced course, learning where dolphins and manatees play freely in the warm waters of the Gulf of Mexico. The Learn to Sail course takes participants through the intermediate level. The Performance Sailing course provides the skills and knowledge to start racing. Both courses are run on the same daily schedule so friends and family traveling together can share free time when not on the water.
The dates dedicated to raising money for LLS in 2010 start are: January 10-15, January 31-February 5, April 25-30, and May 9-14. Per person package rates are $1645 double occupancy, $2265 single in January; $1445 double occupancy and $1895 single in April and May. Villas with one to three bedrooms are also available for larger parties. Participants should plan to arrive Sunday and depart for home the following Friday after an inspiring test sail without the instructor aboard. Code LLS10 must be used to insure the LLS donation is designated.
"We are thrilled that Offshore Sailing School, one of the country's leaders in sail training courses and vacations, is now a national sponsor of The Leukemia Cup Regatta," says Liza Munson, Vice President Campaign Development, The Leukemia & Lymphoma Society. "Their participation and support will help expand the Regatta markets, awareness and participation."
All sailing lessons are aboard award-winning Colgate 26 sailboats - choice of the U.S. Naval Academy, U.S. Coast Guard Academy, Maine Maritime Academy and day sailors and racers around the world. The Colgate 26 is designed with performance, comfort and safety and mind. Its sophisticated adjustments are akin to those found on larger boats. Fast yet easy to handle, the Colgate 26 has been described as "a hoot to sail" by recent Learn to Sail graduates.
Offshore Sailing School is in its 46th year, with more than 115,000 graduates of courses ranging from Learn to Sail to Advanced Cruising, Racing and Passage Making. The company has seven locations in Florida, the British Virgin Islands, Chesapeake, New Jersey and New York City. For more information call 800-221-4326 or visit http://www.offshoresailing.com.
About The Leukemia & Lymphoma Society
The Leukemia & Lymphoma Society ® (LLS) is the world's largest voluntary health agency dedicated to blood cancer. The LLS mission: Cure leukemia, lymphoma, Hodgkin's disease and myeloma, and improve the quality of life of patients and their families. LLS funds lifesaving blood cancer research around the world and provides free information and support services.
Founded in 1949 and headquartered in White Plains, NY, LLS has chapters throughout the United States and Canada. To learn more, visit http://www.LLS.org or contact the Information Resource Center at (800) 955-4572, Monday through Friday, 9 a.m. to 6 p.m. ET.
###