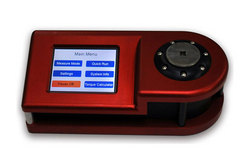 We are really excited about the TSTT series. This touch screen torque tester is unique in every way.
San Diego, CA (PRWEB) December 23, 2009
Flexible Assembly Systems announces the release of the first torque tester on the market to use touch screen technology—the TSTT series. This unique torque tester will enable users to test torque tools, such a torque screw driver, to a ±0.5% bidirectional accuracy using touch screen technology. The TSTT also allows for fast data recording and transfer via USB 2.0 and SD Card media ports—another first in the industry.
Eddie Silverberg, CEO of Flexible Assembly Systems states, "We are really excited about the TSTT series. This touch screen torque tester is totally unique in every way. With patent pending technology, this digital torque tester has an easy to use touch screen interface. Menu selections are easily chosen with a simple touch to the full color LCD display (no mechanical buttons)."
Mr. Silverberg adds, "Another major benefit includes an automatic screen rotation which allows the user to take the torque tester from being used in a vertical position and flip it into a horizontal orientation. This flip feature automatically rotates the screen depending on the position. This is extremely useful when testing different style tools including inline, angle, or pistol grip tools. There's been a lot of buzz surrounding this product release and we're excited to finally bring it to market."
Some added features are a rugged anodized aluminum body, environmentally friendly Li-Ion battery technology, and built-in applications such as a torque calculator.
The new TSTT series from Flexible Assembly Systems enables users to test, record, and even set personalized user settings with a simple touch. The innovative TSTT series torque tester is made in the USA and includes a NIST Certificate required by most ISO 9000 manufacturers.
For a full spec sheet on the TSTT series torque tester please visit http://www.flexibleassembly.com/Products/torque-tester/TSTT-Series-Torque-Tester
About Flexible Assembly Systems:
Flexible Assembly Systems Inc., headquartered in San Diego, CA is a leading distributor and supplier of light industry assembly tools and systems solutions worldwide since 2003. The company's product list is extensive, and includes Electric Screwdrivers, Assembly Tools, Robotic Assembly, Automotive Tools, Torque Testers, Torque Products, Bits and Fastener Systems, Workplace and ESD Systems, and Material Handling Systems.
For additional information, contact:
Jaime Hernandez
Flexible Assembly Systems
800.696.7614
http://www.FlexibleAssembly.com
###