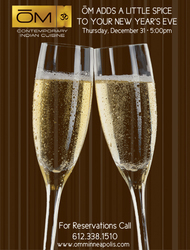 New Year's Eve is about celebrating accomplishments of the past year and looking to future.
Minneapolis, MN (Vocus) December 23, 2009
OM is spicing up New Year's Eve, Thursday, December 31, 2009 with an amazing menu created by OM Culineer, Raghavan Iyer, and priced it to ensure guests don't "break the bank". Guests will feast on a fabulous 3-course menu and a bottle of wine for $130 a couple, $65 per person.
OM opened its doors in downtown Minneapolis on September 11, 2009 in the Nate's Clothing building on the corners of First Avenue and 4th Street North.
General Manager, Co-Owner Randy Norman says, "It is important that OM bring value back to New Year's Eve and not overcharge because we can.
"New Year's Eve is about celebrating accomplishments of the past year and looking to future."
"We have some exciting things planned for 2010!"
Guests at OM's New Year's celebration will be treated to live music as they ring in the New Year; OM is located at 401 First Avenue North in downtown Minneapolis.
OM is excited to share the vibrant flavors and exciting combination's of Contemporary Indian Cuisine found only at OM and look forward to having you as our guest.
If you would like more information please call Jennifer Lueck at 612.338.1510 or email jennifer@omminneapolis.com. Menu details and more information can be found on the website by clicking here.
About OM Minneapolis:
The food: Contemporary Indian Cuisine
With incredible interest in Indian culture and cuisine on the rise OM owners, Randy Norman and Vik Uppal, knew there was a demand in the Twin Cities market that wasn't being met. They believe that restaurant patrons are far savvier in these global times, and a hunger for great Indian food is much stronger, especially contemporary Indian which is the first of its kind in this market. Vibrant flavors, exciting combination's, the sophistication of the presentation – they believe will make this concept stand apart from the rest.
"To me, contemporary Indian cuisine is NOT fusion. What I do here at OM is to showcase the flavored bounties of classical multi-regional Indian home cooking, never seen outside its provincial boundaries, in a modern and contemporary presentation. You won't find cookie cutter restaurant fare that is heavily spiced at all times covered in the same three or four different sauces. All our spices are purchased whole and all our blends are my signature blends – if you give a whole spice to a good Indian cook, he/she should be able to extract eight distinct and different flavors from it. You take that concept and multiply that by the hundreds of spices, you have peeked into the world of regional Indian cuisine." Raghavan Iyer, Culineer, OM
OM has put together an amazing team that is committed to quality and in providing an experience that can't be found anywhere else. From the décor, to the cuisine, to the service; every detail is centered on creating the best dining experience possible for their guests. Their commitment to long term sustainability includes buying locally grown products when possible and using only the highest quality ingredients. They have the right people who have the integrity and commitment to see that mission through.
"Although my most recent experience was with steakhouses I am first and foremost a restaurant operator. I have been in the restaurant business for over 30 years and have experienced success in many restaurant concepts; it's not limited to steak. I know food, and I know people. Interest in Indian cuisine and culture are at an all time high. My business partner, Vik Uppal, and I want to make this rich and diverse culture accessible and approachable to everyone." Randy Norman, co-owner, OM.
###