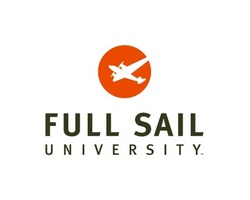 "Housing a facility of this caliber on their campus is a testament to Full Sail's commitment to educational excellence and an enhanced student experience."
Winter Park, FL (PRWEB) December 25, 2009
Full Sail University (http://www.fullsail.edu), an award winning media institution, is pleased to announce our professionally designed postproduction Dubbing Stage has now received the honor of being the first school named as a Dolby® Digital print master facility in the state of Florida. Full Sail joins an exclusive list of professional facilities approved for Dolby Digital print masters.
"Dolby Digital print master facilities provide the highest quality results and exceed expectations set by industry standards," said Bill Allen, Senior Director of Production Services, Dolby Laboratories, Inc. "Housing a facility of this caliber on their campus is a testament to Full Sail's commitment to educational excellence and an enhanced student experience."
To achieve this status from Dolby, the Dubbing Stage went through an extensive approval process including: verifying speaker positions relative to mix position, tuning the mixing studio to match Dolby specifications, and matching Dolby required speaker levels. Dolby Applications Engineer Steve Smith visited Full Sail to commission and approve the Dubbing Stage as a Dolby Digital print master facility, and to complete the print master for the film, Letters to God, which used the Dubbing Stage to mix the film's final soundtrack.
Full Sail's Dubbing Stage features an up-to-date Harrison MPC3-D mixing desk, high-definition video and 35mm projectors, and multiple Pro Tools HD systems, as well as theater seats for private screenings and an Academy Award-winning theater surround sound system from JBL.
"This is great accomplishment for Full Sail University," said Michael Orlowski, Dubbing Stage Engineer. "As a Dolby approved mix facility, we can offer Florida Filmmakers more opportunities to keep films in Florida and further expand our position as an educational leader in the entertainment industry."
About Full Sail University:
Since 1979, Full Sail University, located outside of Orlando, FL, has been an innovative educational leader for those pursuing careers in the entertainment industry. With over 33,000 alumni, graduate credits include work on OSCAR®, Emmy® and GRAMMY®-winning projects, best-selling video games, and the #1 grossing U.S. concert tours. Full Sail's 191-acre campus and online education platform proudly welcomes over 8,000 students from 50 states and 57 countries.
Full Sail currently offers a total of 26 degree programs including: Associate of Science Degree in Graphic Design; Bachelor of Science Degrees offered in: Computer Animation, Digital Arts & Design, Entertainment Business, Film, Game Art, Game Design, Game Development, Graphic Design, Internet Marketing, Music Business, Recording Arts, Show Production, and Web Design & Development; Master of Science Degrees in Education Media Design & Technology, Game Design, Entertainment Business, and Internet Marketing; and Master of Fine Arts Degrees in Creative Writing and Media Design.
Full Sail was most recently named "Best Company" in the 2009 Orlando Business Journal's Reader's Choice Awards, as well as the 2008 "School/College of the Year" by the Florida Association of Postsecondary Schools and Colleges. The university has also been previously named: The Harvard of Game Schools by Tips & Tricks Magazine; one of the top three New Media Schools by Shift Magazine (alongside the Massachusetts Institute of Technology and New York University); one of the Top Five Game Degree Programs in the world by Electronic Gaming Monthly; one of the Best Music Programs in the country by Rolling Stone Magazine; one of the Best Music Business Departments in the Schools That Rock: The Rolling Stone College Guide; and one of the Best Film Programs in the country by UNleashed Magazine.
For more information about Full Sail, please visit http://www.fullsail.edu.
###