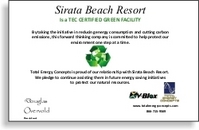 Jacksonville, FL (PRWEB) December 23, 2009
Total Energy Concepts (TEC) and V-Blox have spent the last few years establishing their Certified Green Program for business owners who wish to reduce energy consumption, increase their bottom line and help save the environment through the use of V-Blox power factor correction and voltage optimization units.
The Certified Green Program recognizes those companies that have made the investment to lower their carbon footprint by optimizing their electrical system and reduce energy consumption with a custom engineered V-Blox Energy Optimization System. Hundreds of companies across the nation have taken advantage of the Total Energy Concepts (TEC) and V-Blox Certified Green Program. Not only are these companies making positive steps to help improve the environment, but they also are gaining positive recognition and publicity through TEC's "Press Release Program" while increasing their bottom line.
There are many benefits of the TEC and V-Blox Certified Green Program including operational, societal and government benefits. Operational benefits for business owners include reduced energy consumption, reduced maintenance costs and downtime expenses, increased equipment life, and ultimately you save money and increase your bottom line.
The societal benefit has to do with the fact that many companies are "Going Green" and like to do business with other "Green" companies. Total Energy Concepts and V-Blox issue each Certified Green company a sticker and plaque to proudly display in their business for all to see.
Finally there are some government benefits to the Total Energy Concepts (TEC) and V-Blox Green Certified Program. Specifically the Florida Department of Environmental Protection (DEP) recognizes TEC and V-Blox Certified Green Program as an important component of DEP's "Green Lodging" program, which encourages hotels and motels to adopt cost-saving "Green" practices that conserve energy, reduce water consumption, protect air quality and reduce waste.
The Total Energy Concepts and V-Blox Certified Green Program is a very cost effective and positive program for businesses and our environment. Certified Energy Specialists from Total Energy Concepts and V-Blox are trained to conduct facility surveys on qualified properties by evaluating the current electrical system conditions and energy demands, determine the current electrical system status, and to provide the steps necessary to reduce consumption with a projected savings estimate.
About Us
Total Energy Concepts was founded in 2003 to help business owners save money and reduce energy consumption by utilizing a custom engineered Power Protection / Energy Optimization System. Total Energy Concepts is V-Blox's top distributor and marketing and sales training partner. Visit us at http://www.TotalEnergyConcepts.com
V-Blox, founded in 1998, is a manufacturer of energy optimization systems using Voltage Protection Units and Power Factor Correction Units that are custom manufactured for residential, industrial and commercial buildings. V-Blox installs their products across the country. V-Blox has Energy Specialist, Sales Rep, Management and Distributorship opportunities available. Visit us at http://www.V-Blox.com
# # #