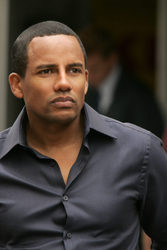 The opportunities and benefits that broadband allows in the areas of education, telemedicine, economic stimulation, and so much more, are unprecedented.
Los Angeles, CA (PRWEB) December 23, 2009
The Alliance for Digital Equality (ADE) today announced the date for their 2010 Digital Empowerment Summit themed, "The State of The Underserved American In The Midst of The Broadband Revolution." The first annual summit for California is scheduled for January 15, 2010 at the University of Southern California Davidson Executive Conference Center. As The Federal Communications Commission (FCC) drafts the country's first ever National Broadband Plan, ADE will convene a prominent mix of policymakers, thought leaders, and media to discuss the role of wireline and wireless broadband access and adoption in addressing some of the most critical issues facing underserved communities in our country today, such as access to a quality and affordable education, disparities in healthcare and economic development in low-income communities. The summit will begin at 9:00 A.M. and conclude at 3:00 P.M.
Several powerful voices will be heard during this broadband summit including Mayor Antonio Villaraigosa and Danny Bakewell, Sr., who will be delivering keynote speeches. Mayor Villaraigosa is the 41st Mayor of Los Angeles and Danny Bakewell is the Executive Publisher for the Los Angeles Sentinel. CNN Contributor, Mario Armstrong, and actor, author and activist, Hill Harper, will moderate the summit's panel discussions. In addition, actor Malik Yoba will be in attendance to commentate on the panels.
"As our society prepares to undergo tremendous structural changes in how vital local, state and federal government services are delivered, we hope to draw attention to the millions of un-served and underserved Americans who do not yet have Broadband Internet access," said Chairman Julius H. Hollis. "The opportunities and benefits that broadband allows in the areas of education, telemedicine, economic stimulation, and so much more, are unprecedented. As we work to develop our National Broadband Plan we must keep in mind that policies that raise costs for average Americans will disproportionately impact minorities and low-income communities, and as such, must work to ensure policies that will make broadband affordable and available for all."
Opening remarks will be given by Julius H. Hollis, Chairman and Founder of ADE. Confirmed panelists include: Howard Wright (VP Global Business Development of Qualcomm), John Marks (Mayor of Tallahassee), Henry McGee (President of HBO Video), Winston D. Johnson (Chairman and Founder WinSonic Digital Media Group, Ltd.), Denmark West (President of BET Digital), Darrell Stewart (Educational Dev. Manager of Intel Corporation), and Dr. Victoria M. DeFrancesco Soto (Professor from Northwestern University).
About Julius H. Hollis: Julius H. Hollis is the founder of The Alliance for Digital Equality and currently serves as the Chairman of the Atlanta, Georgia-based 501(c) 4 non-profit corporation. A native of Atlanta, Mr. Hollis' background includes an extensive career as a banker, entrepreneur and financial advisor to a diverse array of multinational clients. In addition to his leadership role with The Alliance, he also serves as Chief Executive Officer of Hollis & Company, an Atlanta based investment-counseling firm with an affiliate office in Johannesburg, South Africa. Mr. Hollis
received his B.A. degree from Morehouse College.
About The Alliance for Digital Equality: The Alliance for Digital Equality is a non-profit consumer advocacy organization that serves to facilitate and ensure equal access to technology in underserved communities. The Alliance also serves as a bridge between policymakers and minority individuals in order to help the public understand how legislative and regulatory policies regarding new technologies can impact and empower their daily lives.
For More Information or to register please visit: http://www.alliancefordigitalequality.org
For Media Inquiries Contact: Laura Wright, publicist, at Avid Exposure on (310) 358-9232
###