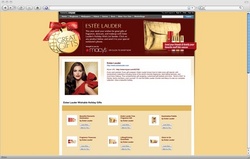 "We were looking for an innovative technology solution for the holidays along with a company that has a large audience to market to. We were thrilled to find both in the same place via Myxer," said Mendy Charlton, VP, North America Marketing, Estée Lauder
Deerfield Beach, FL and New York, NY (PRWEB) December 23, 2009
Myxer, committed to connecting brands and consumers through mobile, and Estée Lauder, one of the world's leading manufacturers of cosmetics, fragrances, and skincare products, today announced a web and mobile storefront where users can go to send gift "wish list" ideas to friends and family during the holidays.
The custom-built Estée Lauder "Wish List Sender" storefront contains product images which users may select and send to their friends and family members' mobile phones. Some of Estee Lauder's world-renowned fragrances, best-selling skincare products and must-have makeup are included, along with complimentary gift-wrapping, customized gifts and more. Estée Lauder is also sponsoring the Myxer 'Happy Holidays' Channel, where consumers can download the latest in holiday-themed mobile wallpapers and ringtones.
"We were looking for an innovative technology solution for the holidays along with a company that has a large audience to market to. We were thrilled to find both in the same place via Myxer," said Mendy
Charlton, VP, North America Marketing, Estée Lauder.
"Myxer is proud to be part of Estée Lauder's mobile 'Wish List Sender' campaign," said Myk Willis, CEO of Myxer. "As consumers are increasingly out and about during the holidays, they want access to shopping and research via mobile much the same way they do from their desktops throughout the year. Our platform gives them the tools to do this in a very personalized way, and brands gain a powerful new mechanism to reach both loyalists and consumers at large, regardless of platform or device."
According to Deloitte's 24th Annual Holiday Survey of retail spending and trends (2009), one in five consumers (19%) plan to use the mobile channel for holiday shopping, with 25% of those customers planning to use a mobile phone to make a purchase.
To visit Myxer's Holiday Channel, please visit:
http://www.myxer.com/theme/HappyHolidays/
About Estée Lauder
Estée Lauder was launched in 1946, and is the flagship brand of The Estée Lauder Companies Inc. Estée Lauder products are sold in more than 140 countries and territories. They are technologically advanced and high-performance products with a reputation for innovation, sophistication and superior quality. To learn more about Estée Lauder products visit http://www.esteelauder.com.
About Myxer
Myxer is the largest and fastest growing site for mobile entertainment and personalization– with nearly 30 million users, more than 70 million mobile downloads a month, and a catalog of over 2 million ringtones, wallpapers, videos, applications and games from content providers including EMI Music, Showtime, The Travel Channel and Ford Motor Company. At http://www.myxer.com there are no hidden costs, no subscription fees and no surprises. For content providers and consumers, Myxer's mobile platform enables radically simple and rapid delivery of content. And for advertisers, Myxer offers a variety of high-impact offerings across the web and mobile web, including the unique ability to target and deliver branded content.
Named a Top Wireless Company in 2009 by FierceWireless, Best Music Service at the 2008 Mobile Entertainment Forum, and Best Consumer Messaging Application at the Global Messaging Awards 2008– Myxer's unique solutions continue to capture attention, both domestically and abroad. To learn more as well as see a sampling of brands that have used Myxer to power their campaigns, please go to demo.myxer.com.
Contact:
For Myxer
Eric Gonzalez 415.272.0836
###