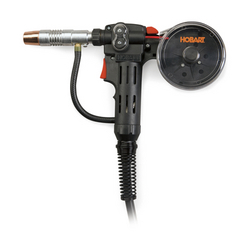 Appleton, WI (PRWEB) December 23, 2009
Hobart Welding Products has introduced the DP 3545-20 Spool Gun for optimized aluminum and other soft alloy wire welding. The DP 3545-20 plugs directly into the new Hobart IronMan 230 MIG welder's wire drive system without the need for tools and uses .030 to .047 in. aluminum, steel and stainless steel wire, with a wire speed range of 200-1200 IPM. The DP-3545-20 Spool Gun is rated at 200 amp at 60 percent duty cycle.
Highlights/Key Facts

Robust gun barrel and cable suited for IronMan 230 MIG welder's 250 amp output
20-foot cable
Direct-connect power pin enables fast connection to wire drive system
Ideal for working with softer alloy metals, such as aluminum
Weighing just 8 lbs. with the cable assembly, the DP 3545-20 is available through farm/ranch and hardware/tool retailers in the US and Canadian markets with a MSRP of $570, prices will vary by retailer.
Additional features include:

Cable sheath and spring strain relief
Spool canister protects the wire and allows users to see the spool easily
Easy to remove barrel assembly
Complete with extra drive rolls, contact tips and blow-molded plastic case
Links
Visit the DP 3545-20 product page
About Hobart Welding Products
Hobart Welding Products offers a complete line of industrial-grade Stick, MIG, TIG and spot welders, plasma cutters and generator/welding power sources designed for easy use. Hobart products are available through farm and tool retail stores as well as welding supply distributors.
Hobart Welding Products is a division of Hobart Brothers Company, Troy, Ohio, a wholly owned subsidiary of Illinois Tool Works Inc. (NYSE: ITW). Based in Glenview, Ill. ITW is a multinational Fortune 200 company that engineers and manufactures welding products, fasteners, components, assemblies and systems for customers around the world.
For more information contact:
Corporate Headquarters
HOBART Welding Products
1635 West Spencer Street
Appleton, WI 54912-1079
Literature Requests
HOBART Welding Products
P.O. Box 100
Lithonia, GA 30058.
Web site: http://www.HobartWelders.com
E-mail: info(at)hobartwelders(dot)com
Sales & Customer Support: 1-877-HOBART1 (877-462-2781)
###