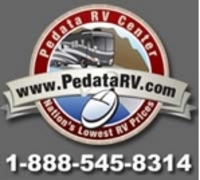 The worst of the Great Recession is behind your industry.
Phoenix, AZ (Vocus) December 24, 2009
The RV Industry has long been an indicator for the economy. Attendance has been on the rise at national RV shows and positive sales numbers reported. To confirm the turn in the economy, New York Stock Exchange Chief Economist Emeritus William Freund stated in his seminar at the National RV Trade Show "The worst of the Great Recession is behind your industry." Freund predicted a total economic recovery in three to five years with consumer interest gearing towards affordability and innovations with baby boomers contributing to the recovery.
The RV lifestyle has become the affordable means for family travel. While extravagant vacations have declined, families are hitting the road in a motorhome. Purchasing an RV is an investment in family and in the affordability of future get-aways.
"There is no doubt the last few years have been rough on the RV Industry, says Gerard Pedata of Pedata RV Center, "however, with a focus on customer service, cost-effective options for customers, and an ability to listen to what the consumer wants, we are confident a full recovery is right around the corner."
For more information on Pedata RV Center, or current trends in the RV industry contact Gerard Pedata, sales (at) pedatarvcenter.com or by phone at: 1-888-545-8314 or 520-807-0900. Or visit Pedata RV Center online at http://www.pedatarvcenter.com.
Contact: Gerard Pedata
Company: Pedata RV Center
http://www.PedataRVCenter.com
Phone: 1-888-545-8314 or 520-807-0900
Email: sales (at) pedatarvcenter.com
###