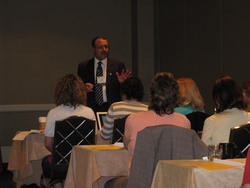 "John Faggio and his team of co-instructors have helped many women avoid the pitfalls of faulty advice and obtain further sage counsel.This is an invaluable class for those in need of support and guidance. "
Columbia, MD (PRWEB) December 29, 2009
Maryland women who are going through the divorce process have had an exclusive opportunity to gain expert knowledge from a class offered through the Howard Community College. Since its inception in January of 2005, hundreds of women have been provided with priceless, accurate, insightful, and current divorce information.
"What Women Need to Know About Divorce" (aka "Second Saturday") was actually the creation of attorney Genita Wall In San Diego. "When I learned about the success and history of this class, I just had to make it happen in Maryland," says John Faggio, CPA, CFP®, CDFA™.
John leads the all-volunteer team of instructors that includes a divorce attorney and mental health practitioner. The four-hour class not only provides information and recommendations; it was designed to give women the opportunity to meet others in similar situations. Second Saturday addresses the legal, financial, family, and personal divorce issues in a logical and considerate manner. These questions are frequently addressed at the class:

When should I contact an attorney?
What's the difference between using an attorney and mediation?
How can I make this a "child centered" divorce?
How can I best deal with the emotional issues of my children?
Should I keep the house?
Can I maintain my current living status?
How will income taxes affect my ability to pay my bills?
A vital segment of the class is an in-depth discussion of how and what process to choose. Each instructor talks about their respective roles, and the advantages and pitfalls in each of these processes:
Mediation
Arbitration
Collaboration
Litigation
Margaret (Meg) Oliver, Family Law Attorney at Hodes, Pessin & Katz, is a frequent presenter at the class. She says "This is a must for women going through separation and divorce. It is wonderful to see women empowered by the Second Saturday program as they gain knowledge about their rights and responsibilities and an understanding of the court process and other non-adversarial processes available for families in crisis. I am happy to be a part of this program."
Marge Cangiano, Lifelong Learning Specialist at the Howard Community College, approved the class for inclusion in the College's non-accredited seasonal brochure. "So many women face divorce without the legal and financial information needed to help them through this difficult and life changing challenge. Second Saturday offers women a comfortable environment in which to obtain the information they need."
Faggio Financial LLC is Central Maryland's only exclusive matrimonial financial planning practice. John Faggio is a CPA, CFP® and CDFA™ who has helped hundreds of divorcing individuals reach financial divorce settlements in a rational, expedient, and cost-effective manner.
Click here to register for our next class on January 23, 2010.
###