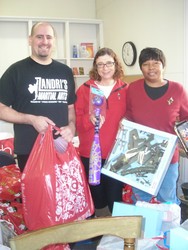 With times as they are, I knew more people than ever would be in need this year.
Brookfield, CT (PRWEB) December 24, 2009
Zandri's Martial Arts in Brookfield dropped off a jam packed car load of toys to the welfare department in Danbury, Connecticut just in time for Christmas. Martial Arts students at Zandri's donated toys as part of their Character development program.
Over Thanksgiving, students collected food that they donated to the Brookfield Food Pantry. They were so fulfilled from the first collection that they decided to collect toys for the holidays.
"With times as they are, I knew more people than ever would be in need this year.", Said Mike Brooks, co-owner of Zandri's Martial Arts. "And it amazed me just how generous all of our students are. They really stepped up for both the food and toy drive."
Both charitable events stemmed from their character education program, Powerful Words. This program teaches a word of the month. Each month the word examines a new character word.
The word for December was "Open Mindedness". All month long through different lessons, children, teen and adult students learned what it means to be accepting of those who are different than us.
"Martial arts is more than just self defense.", Says Mike Zandri, co-owner of Zandri's Martial Arts. "It is about building people from the inside out. That all starts with building character first."
It seemed an obvious fit to the owners of Zandri's Martial Arts to support their community during the holiday season. Tying it in with Open Mindedness, they decided to reach out to those less fortunate from Danbury and Brookfield.
"The need in Danbury was immense.", said Brooks. "We contacted Dianne Ewell and she provided families we could adopt. I know that there were at least 3 more toy collections that were still in need."
This year there were more families in need than could be matched with people to provide gifts. Zandri's stepped in to try to fill the void.
"A mother just called a few minutes ago looking for help for her 8 & 5 year old daughters for Christmas.", said Dianne Ewell of Danbury Welfare Department. " I was able
to give her a good size bag with the extra toys I had left over thanks to Zandri's Martial Arts."
Zandri's Martial Arts is located in Brookfield, Connecticut. But because of their central location have students from Danbury, New Fairfield, Newtown, New Milford and Bethel. For this reason they work with many communities. For more information, call (203) 775-7150 or visit their site at http://www.zkick.com.
###