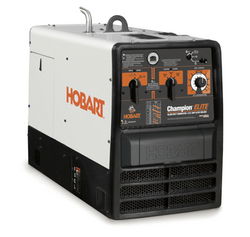 "The Champion ELITE's 100-percent duty cycle allows operators to run it wide open for as long as needed for welding and working with auxiliary tools." - Scott Rozmarynowski, product manager, Hobart Welding Products
Appleton, WI (PRWEB) December 28, 2009
To meet the demands of today's construction and emergency power applications, Hobart Welding Products introduces its new Champion™ ELITE engine-driven welding generator. Powered by a 23 hp OHV, twin-cylinder Kohler or Subaru gasoline engine, this machine produces 11,000 watts of peak auxiliary power and offers a 225-amp AC or 210-amp DC weld output. And with 9,500 watts of continuous power at 100-percent duty cycle, the Champion ELITE was designed to allow operators to weld and work with auxiliary tools at the same time.
"The Champion ELITE offers exceptional arc starts and strong, continuous power," says Scott Rozmarynowski, product manager, Hobart Welding Products. "Operators can run it wide open for as long as needed for welding and working with auxiliary tools."
Highlights/Key Facts

Generates 11,000-watt peak power (9,500-watts continuous at 100 percent duty cycle)
Offers two welding processes: AC Stick or scratch-start DC TIG
Features a "No Tools" oil change and digital hour meter
12-gallon fuel tank for extended operation
Rugged, fully enclosed case for increased protection
Available through farm/ranch and hardware/tool retailers in the US and Canadian markets, the Champion ELITE has a MSRP of $3,050 US prices will vary by retailer.
When farmers, ranchers, contractors, fabricators, maintenance personnel, service truck owners and serious do-it-yourselfers need auxiliary or emergency back-up power, a welder/generator is the best investment they can make. For roughly the same price as a standalone generator, Hobart offers an added value in their all-in-one machine that runs motors, powers tools and appliances and provides Stick and TIG welding capabilities as well.
The Champion ELITE boasts 9,500 watts of continuous power (while welding) from four 120 V (20 amp) receptacles and one 120/240 V (50 amp) receptacle. All receptacles feature push-button reset circuit breakers. Auxiliary power is available while welding, offering two operators to work off the same generator.
The unit provides excellent starting capabilities for motors in the three to five hp range. It can run for up to 9 hours on one, 12-gallon tank of gas under a continuous load of 4,000 watts. Unlike competitive units, the rheostat does not have to be set to maximum for full auxiliary output. This delivery of strong, continuous power is essential to running compressors, pumps, hand tools and other equipment.
On the welding side, the Champion ELITE features Hobart's patented Field Current Control (FCC) technology for smooth Stick arc starts with minimal sticking of the rod. The FCC monitors feedback from the welding arc and continuously adjusts the current from the generator to maintain optimum arc characteristics.
The Champion ELITE has a 50- to 225-amp output for AC Stick welding with 6010, 6011, 6013 and 7018 rods up to 3/16 inch and 7014 and 7024 rods up to 5/32 inch. The machine also is suitable for general stick or scratch start DC TIG.
Hobart backs the Champion ELITE with its 5/3/1 warranty, which covers the transformer for five years, the switches, controls and valves for three years and the torch for one year. Engines are covered separately by the manufacturer. For a detailed spec sheet or free literature, visit http://www.HobartWelders.com, call 1-877-HOBART1 (462-2781) or write to Hobart Welders at P.O. Box 100, Lithonia, GA 30058.
About Hobart Welding Products:
Hobart Welding Products offers a complete line of industrial-grade Stick, MIG, TIG and spot welders, plasma cutters and generator/welding power sources designed for easy use. Hobart products are available through farm and tool retail stores as well as welding supply distributors.
Hobart Welding Products is a division of Hobart Brothers Company, Troy, Ohio, a wholly owned subsidiary of Illinois Tool Works Inc. (NYSE: ITW). Based in Glenview, Ill. ITW is a multinational Fortune 200 company that engineers and manufactures welding products, fasteners, components, assemblies and systems for customers around the world.
For more information contact:
Corporate Headquarters
HOBART Welding Products
1635 West Spencer Street
Appleton, WI 54912-1079
Literature Requests
HOBART Welding Products
P.O. Box 100
Lithonia, GA 30058.
Web site: http://www.HobartWelders.com
E-mail: info (at) hobartwelders (dot) com
Sales & Customer Support: 1-877-HOBART1 (877-462-2781)
###