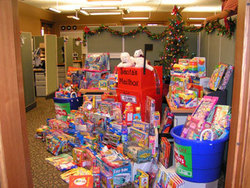 Lodi, Calif. PRWeb (PRWEB) December 28, 2009
Clark Pest Control joined forces with Toys for Tots this holiday season to help needy children in their local community. The California and Nevada based pest control company held a week-long holiday toy drive at its headquarters in Lodi, California; the toys were then collected by the Marine Corp and delivered to needy children in time for the holiday.
Toys for Tots was first established in 1947 by Major Bill Hendricks, USCR and a group of Marine Reservists in Los Angeles. Together they collected and distributed 5,000 toys to needy children in the area. The program has since grown nationwide granting holiday wishes to children throughout the United States every year. Toys for Tots relies on donations from the American Public and Corporate Partners each year.
Clark Pest Control invited the local community in Lodi, CA and surrounding communities to contribute to the toy donations at their headquarters. The toy drive began with a kickoff event from Clark Pest Control of $1,000 worth of toys. The donation drive also included a visit from Santa which brought in 100 people all of whom donated a gift. Together the Clark Pest Control team, and the proceeds of the donation drive, brought in enough toys to fill the Toys for Tots van.
Clark Pest Control has grown into one of largest pest management companies in the Western United States. Family-owned and operated Clark Pest Control works to provide unparalleled service to each and every client. The entire Clark Pest Control team was proud to donate to Toys for Tots and thanks the community members that joined them.
About Clark Pest Control
Clark Pest Control, headquartered in Lodi, Calif., is the West's largest family-owned pest management company. With more than 1,000 highly trained employees servicing more than 164,000 clients, Clark Pest Control provides California and Nevada residents the most reliable pest control and exterminator services in the world by integrating technology with environmental responsibility. Using personalized pest control programs for homes, schools, businesses industries and agriculture, the company specializes in pest and termite control, structural repairs, IPM for schools, fumigation and food safety.
###