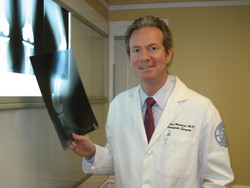 Newer techniques and better technology have made joint replacement easier for the patient.
New York, NY (PRWEB) December 28, 2009
In the past few years, major advances have revolutionized the way doctors perform hip replacement and knee replacement surgery to relieve severe arthritis pain. "These days, patients have more options. Newer techniques and better technology have made joint replacement easier for the patient," says Dr. Geoffrey Westrich, an orthopedic surgeon and co-director of joint replacement research at the highly-rated Hospital for Special Surgery in Manhattan.
One such advance is minimally invasive joint replacement, according to Dr. Westrich, who is an associate professor of orthopedic surgery. This newer technique achieves the same goal as the standard operation, but with a three- or four-inch incision, as opposed to 12 or 14 inches. The operation entails replacing the painful arthritic joint with a fully functioning hip or knee implant.
"This is a major advance. Aside from the better cosmetic result, the smaller incision results in less pain, a quicker recovery, a shorter hospital stay and easier physical therapy," Dr. Westrich explains. "Mini-incision" joint replacement requires a high level of skill and training, and generally only highly specialized orthopedic surgeons perform the procedure.
Hip Resurfacing
Some patients with severe hip arthritis may qualify for a newer procedure called "hip resurfacing", which conserves more bone than total hip replacement, according to Dr. Westrich. Unlike a total hip replacement, in which the entire hip joint is removed, the newer procedure resurfaces the joint, much like a dentist would cap a tooth. The worn cartilage and damaged first layer of bone are removed and a new metal surface is installed. Dr. Westrich says hip resurfacing generally allows patients to engage in higher levels of activity after the surgery and recuperation. Not all patients qualify for hip resurfacing, though, and the proper diagnosis is key. The best candidates tend to be patients under 65 with debilitating arthritis, but active older patients with good bone quality may also be eligible.
Partial Knee Replacement
For patients with severe knee pain from arthritis, a partial knee replacement may be possible. Less extensive than total joint replacement, it is appropriate for patients whose arthritis is limited to just one area of their knee. "Patients who qualify for a partial joint replacement experience less pain right after surgery, have a quicker recovery and rehabilitation, and have a shorter hospital stay," Dr. Westrich says. "Yet the procedure completely relieves arthritis pain and allows patients to return to activities they were forced to give up." Another advantage is that it preserves the normal bone and cartilage in the rest of the knee that would typically be replaced in a total joint procedure."
When choosing an orthopedic surgeon and hospital for joint replacement, parents should make sure the physician specializes in this type of surgery and is highly experienced in the procedure, Dr. Westrich advises. A wealth of information about joint replacement is available at the web site: http://www.westrichmd.com. Anyone wishing to make an appointment with Dr. Westrich can call 212-606-1510.
About Dr. Westrich
Dr. Geoffrey Westrich is an attending orthopedic surgeon and co-director of joint replacement research at the renowned Hospital for Special Surgery in Manhattan. The Hospital is consistently ranked the # 1 hospital for orthopedics in the northeast by U.S. News & World Report. Highly specialized in orthopedic problems of the hip and knee, Dr. Westrich has performed thousands of surgeries. He is considered a foremost expert in hip and knee replacement, including minimally invasive total joint replacement and hip resurfacing to help patients with severe arthritis. He provides the highest level of care, treating patients with compassion and respect.
In addition to his medical degree, Dr. Westrich has a background in engineering and has helped design new and improved joint replacements and surgical instrumentation. As an Associate Professor of Orthopedic Surgery at Weill Medical College of Cornell University, Dr. Westrich trains other doctors. He is among a select group of orthopedic surgeons featured in Top Doctors: New York Metro Area. The book is a guide to finding the best physicians in the tri-state area, representing the top 10 percent of doctors in their respective medical specialties. For more information, visit http://www.westrichmd.com
# # #