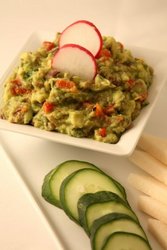 Los Angeles, CA (PRWEB) December 24, 2009
Highly regarded amongst other master chef's, a favorite of the Obama's and known across the country for his popular restaurants, cook books and commercial line of food products – there is no doubt Rick Bayless is a true culinary rockstar! Rick has received numerous honors including beating out 24 master chef's this past August to win the title of Top Chef Master as well as three James Beard awards for National Chef of the Year, Midwest Chef of the Year and Humanitarian of the Year.
Entertaining can be stressful and time consuming. Whether you are throwing a holiday party or looking for the perfect dish to bring, Chef Rick Bayless talks about easy-to-make cooking recipes in Mexican cuisine.
Downloadable Video / Online Media Assetts:
For recipes, photos and Rick Bayless cooking demos available in English and Spanish, please visit:
http://www.magicbulletmedia.com/MNR/RickBaylessHolidayCooking/
About Rick Bayless:
Rick Bayless has done more than any other culinary star to introduce Americans to authentic Mexican cuisine and to change the image of Mexican food in America. He's won James Beard awards for: Midwest Chef of the Year, National Chef of the Year and Humanitarian of the Year. His cookbook with his now 17 year old daughter, Lanie, titled Rick and Lanie's Excellent Kitchen Adventures was nominated for a James Beard Award as well as Rick's latest book Mexican Everyday. Mexico - One Plate at a Time is currently in its seventh season on PBS. On the heels of Frontera Grill and Topolobampo's standout success, Bayless recently opened his third restaurant: XOCO—a quick serve LEED certified restaurant featuring house-ground chocolate and wood grilled tortas. Most recently, Rick was named Bravo's Top Chef Master beating out the French and Italian with his authentic Mexican cuisine.
###