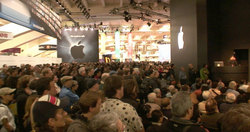 "CNBC has given us the opportunity to share that message with millions of households across North America."
Los Angeles (PRWEB) December 28, 2009
Welcome to Macintosh, the independent documentary highlighting Apple Inc's history and fan following, will make its exclusive North American television premiere on CNBC, First in Business Worldwide, on Monday, January 4th at 9:30PM ET. The documentary was recently made available on the iTunes movie store where it reached the top 10 in documentary sales and rentals.
"CNBC is the perfect home for Welcome to Macintosh" says Rob Baca, Co-Directory of the film. "We took the people and the passion felt for Apple seriously, and CNBC provides the ideal venue for informative and entertaining content to be presented."
"The goal was to make a film that you can show to anyone, even someone that has never used a computer, and have them understand why so many people love Macintosh," says Josh Rizzo, Co-Director. "CNBC has given us the opportunity to share that message with millions of households across North America."
"Make no mistake, this is film is about as independent as you can get. No studio, no bankroll, just two dedicated filmmakers and their credit cards. The result has been life changing for the both of us," Says Baca.
"We have received a lot of support from members of the Mac Community," says Rizzo. "We could not have done this without them."
In the spring of 2009 the filmmakers held a screening in San Francisco during the week of Macworld Conference and Expo during which Apple Co-founder and entrepreneur Steve Wozniak comment that "Welcome to Macintosh" was "So much on the mark... I've been involved with some other independent films and this is by far the best one I've seen."
Andy Hertzfeld, Co-creator of the Mac and Author of "Revolution in The Valley" said that "Welcome to Macintosh captures and exemplifies the unique spirit expressed in Apple's products."
Ron Wayne, Co-founder of the Apple Computer Company and Author of "Nature of Money" said "Welcome to Macintosh is an entertaining, and illuminating look at the people and events that made Apple and the Macintosh the phenomenon it is today."
Leander Kahney, Author of "Inside Steve's Brain" and "Cult of Mac" said that Welcome to Macintosh "…is an insightful look at Apple history and a ton of fun to watch!"
"Every Mac user should watch this movie." Says Guy Kawasaki, original Mac Evangelist, Author and entrepreneur.
Welcome to Macintosh has been presented in over fifty Macintosh User Groups around the world as well as an official selection in seven international film festivals including the 10th Annual Wisconsin Film Festival, the 4th Globians World and Culture Documentary Film Festival, the 1st Ann. Naperville Independent Film Fest, the Texandance International Film Festival as well as the Cleveland Ingenuity Festival.
The Welcome to Macintosh website includes exclusive behind the scenes content including photos, videos, discussions.
Welcome to Macintosh is an independent motion picture and has not been authorized, sponsored, or otherwise approved by Apple Inc. Macintosh, iPod and iTunes are registered trademarks of Apple Inc.
###