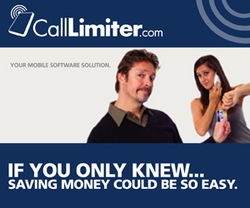 "It was clear that something needed to be done to combat increasing costs of usage," he says. "Call Limiter was developed to help people gain greater control over their mobile phone costs in these harsh economic times."
(PRWEB) December 25, 2009
As society becomes increasingly more reliant upon mobile technology, Telcos and Carriers have found ways to augment usage charges to customers' detriment. Newly released Call Limiter was developed to help combat rising mobile phone costs and give users the power to track talk time. Now mobile phone users are able to re-gain control over usage costs and save money.
An easy-to-install application, Call Limiter software is downloaded directly onto mobile phones and as such will work in any country where that phone is supported. Users can then select either incoming or outgoing calls, 'all callers' or by specific contact, set a limit either by time or maximum call cost, and then set the length of the warning time. When the call warning appears, users can choose to either cancel the hang-up function or redial the caller.
With precise tracking and advanced call time warning, callers can now limit their talk time down to the second. Call Limiter can automatically cut off phone calls after the time set by users, automatically redial calls and even limit time by select contacts.
Created by Anasoft Consulting in order to manage company mobile usage, Call Limiter quickly became such a successful money-saving device that it was swiftly introduced to the market for public use. According to Chris Mahoney, Director, Call Limiter ensures that users' phones are working for them instead of the other way around.
"It was clear that something needed to be done to combat increasing costs of usage," he says. "Call Limiter was developed to help people gain greater control over their mobile phone costs in these harsh economic times."
A helpful tool for small businesses, Call Limiter helps regulate the duration of staff calls and promote better mobile phone behavior. Call Limiter also makes sure all mobile numbers within a company are on a central contact list.
Call Limiter not only helps manage personal and company costs, it allows users to manage their call time for health reasons. With an increase in attention being paid to the potential health dangers of mobile phone usage, mobile users have become wary of excessive call lengths. The creators of Call Limiter took this subject matter into account when developing the revolutionary new software.
###