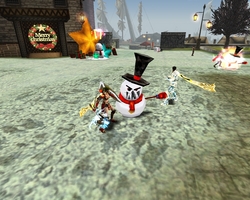 Irvine, CA (Vocus) December 24, 2009
Irvine, CA December 23, 2009 -- Knight Online, a premier MMORPG title of GamersFirst (http://www.gamersfirst.com/), celebrates the holidays with multiple holiday events in-game.
Build a Snowman - Players must work together to build a snowman. Users gather with their fellow countrymen outside their respective castles and transform the small snowman into a magnificent giant snowman. Once the snowman reaches a specific size he will bless everyone in the area with a special reward.
The Rowdy Snowman – This event puts the angry and rebellious snowman against players in PvP zones. Players that encounter the Rowdy Snowman must defeat him in order to receive unique holiday items.
Parfait's Gift – This is a special holiday gift that can be obtained by defeating snowmen throughout Moradon, El Morad and Luferson Castle. The rewards include limited edition stones; which increase your attributes for a certain amount of time.
Secret Event – KOL offers an additional secret event, only discoverable through playing during the holiday season.
Gamers can enjoy Knight Online's annual holiday events by logging in anytime between December 18th to December 29th, with a possibly extension to the New Year. Happy Holidays!
Follow all holiday updates:
Twitter – @KnightOnline
Community Forum(s)
English Forum - http://forum.knightonlineworld.com/forum_en/index.php
Turkish Forum - http://forum.tr.knightonlineworld.com/index.php
About GamersFirst
GamersFirst is the leading Free2Play® MMO publisher in the Western hemisphere. Serving over 28 million players, GamersFirst.com is where gamers decide the price of the games they love to play–even when that price is "free." Powered by GamersFirst CONNECT, the end-to-end game publishing, game operations and game community platform made available to all of GamersFirst's Development Partners, GamersFirst.com features the hit MMOs War Rock, Knight Online, Sword of the New World, Our World and future hits Parabellum, Victory Racing, GoGoRacer and Taikodom. Read more about the company at http://www.GamersFirst.com/corporate/ and find all of their games at http://www.GamersFirst.com
###