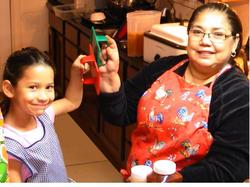 Tamaladas continue - People report spreading 10-30 dozen an hour.
Corpus Christi, TX (Vocus) December 24, 2009
Memories of our grandparents and parents at our family Tamaladas teaching us the art of making tamales took place around the holidays. Mastering the art of spreading masa with the back of a spoon took many years to master. It basically takes over ten years to master a good spread of masa.
"If you've ever made tamales, you know the most time consuming part of the tamale making process is the spreading of the masa or dough." All the other tamale making steps are easy. Homemade Tamales prepared using a tamale spreader, yields sixty dozen delicious tamales in a couple of hours.
This holiday season, tamales on a budget is going to make the biggest impact with the least amount of money. Budget-conscious cooks will make a fiesta or posada party and serve tamales as the main dish and consider it a gift to all.
Modern Tamaladas are a fast growing fiesta to make more TAMALES. Replacing the old with the new modern process will increase tamale production. For example, the use of a mixer to knead the masa dough instead of hands. A blender is used to grind the fresh spices replaces a rock molcajete. A food processor is used to shred the meat in place of a molino. A Tamale Spreader replaces the spoon to spread the masa on the cornhusk. "Tamaladas continue - People report spreading 10-30 dozen an hour."
"Tamale-Logic #13 Ultimate goal more tamales in less time"
Learn to make tamales from start to finish a tamale video demonstration at TamaleSpreader.com. The website includes delicious Tamale meat and masa recipes using lard or oil. (http://www.mex-sales.com/recipes.html)
The Tamale Process:
Prepare corn husks: Pull apart dry husks and soak in hot water for an hour or until soft. Spread on the silky side of the cornhusk.
Prepare tamale filling: (http://www.mex-sales.com/tamal3.html)
-Cook your favorite meat or vegetables. Grind meat using a food processor.
The Spices: (http://www.mex-sales.com/tamal4.html)
-Fresh spices are better. Boil chile ancho. Grind pepper corns and cumin seed in a blender. Then add chile ancho, garlic and some broth in blender and grind until a sauce is formed. Add sauce to meat mix and add salt to taste.
Prepare tamale dough: (http://www.mex-sales.com/tamal5.html)
-Place broth and masa harina in a large bowl and mix. Blend oil and spices. Then add to masa dough and whip using a mixer. Add baking powder let rest. See recipe below.
Spread masa fast and easy: (http://www.mex-sales.com/tamal6.html)
-Spread masa on silky side using the Mas Tamales Masa Spreader.
Filling and folding tamales: (http://www.mex-sales.com/tamal7.html)
-After the masa is spread, place 1 to 2 tablespoons of filling lengthwise in center of masa. Then, one long side over the meat fold the end into the tamale and roll it over. Doing the baby tuck. Make six packs.
(http://www.mex-sales.com/tamal8.html)
-Steam Tamales for 1 1/2 to 2 hours. Let tamales cool for about 15 minutes. Tamales are cooked when the dough is firm, spongy and does not stick to husk. Enjoy.
Recipe: Tamale Masa takes about 10 minutes to make a full bag of masa harina makes 16 Dozen Texas Tamales and 10 dozen California Tamales.
TAMALE MASA RECIPE USING MASABROSA MASA HARINA
Masabrosa 1 Bag 4.4 lbs
Brothor Water comb. 1-Gallon
Salt 1/3Cup
GarlicPowder 1/3Cup
Chile Powder 1/3Cup
Oil 4 Cups
Baking Powder 1/3 Cup
Place broth in a large bowl, add Masabrosa and mix using a mixer. Mix together oil, chili powder and salt until they dissolve. Add to masa and mix using mixer on high for 2 minutes. Add baking powder and mix on high speed for 5 minutes. Let masa rest for 15 minutes. Then spread masa using the Mas Tamales Masa Spreader.
Learn to make tamales from start to finish a tamale video demonstration TamaleSpreader.com. The website includes delicious Tamale meat and masa recipes using lard or oil. (http://www.mex-sales.com/recipes.html)
###