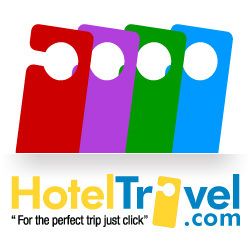 "After a tough 2009 most people just want to break away from their personal or professional reality and have a good laugh in a fun lighthearted destination. At HotelTravel.com we endeavour to send customers on their way with a huge grin on their face,"
Phuket (PRWEB) December 25, 2009
Hoteltravel.com is bringing the curtain down on 2009 with a positive eye on good things to come with an unbelievable list of truly amazing travel predictions for 2010.
According to HotelTravel.com Chief Marketing Officer, Tom Racette, a keen sense of humour is what travellers need most in 2010.
"After a tough 2009 most people just want to break away from their personal or professional reality and have a good laugh in a fun lighthearted destination. The travel industry tends to take itself too seriously, while at HotelTravel.com we endeavour to send customers on their way with a huge grin on their face," Mr Racette, added.
So all at HotelTravel.com would like to wish their loyal customers, friends and readers a very Happy New Year with its truly amazing list of top ten travel predictions for 2010:
Social Media Facations
In these tough economic times, we think a fake holiday could be the most cost effective way to feel like someone is on holiday even if it never happens. So start planning now how to best fake out close friends and relatives with daily Facebook updates and altered photos of raging at the Full Moon Party in Thailand, summiting Mount Everest in Nepal, praying for world peace with the Dali Lama in India or partying with the Obamas at the White House.
Eventations
Spectacular events will dominate the travel calendar in 2010. Two extended events that are tailor made to plan great holidays around include the Vancouver Winter Olympics 2010 and the World Cup 2010 in South Africa. For South Africa hotels, especially the final matches, now is the time to check out HotelTravel.com for great deals on hotels in Johannesburg including Town Lodge Midrand (from US$ 91 per night), Ashanti Hotel Johannesburg (from US$ 95 per night), Sunnyside Park Hotel (from US$ 113 per night) or the Courtyard Rosebank Hotel (from US$ 124 per night).***
Carbon Carrots
Get ready to see the rise of the Greenpeace type lobbyists of the travel industry: Carbon Crusaders will be deployed to monitor the carbon footprint of individual travellers. Carbon trading uses a stick-and-carrot approach to reduce gases that cause global warming that would be perfect for the travel industry. Travellers would accumulate 'carrots' for reducing their carbon footprint on holiday that could be redeemed for future eco-holiday treats. Naughty travellers with a large carbon footprint in turn get a punitive 'stick' from Carbon Crusaders. Ouch.
Attack of the Full Body Scanners
We think that not many people want to get naked at airports. However, the soon-to-be-deployed technology of full body scanners will strip travellers right down to the bare flesh. Expect to see a rush of applicants in the airport security sector once these obtrusive machines become the norm.
Schumications
A sub-category of 'Eventations' for Formula 1 fanatics, this comeback scenario is perfect. Michael Schumacher is returning to Grand Prix Formula 1 in the Mercedes Silver Arrow at the season's opening in Bahrain. However, the Petronas Kuala Lumpur Grand Prix on 2 to 4 April is a great circuit to catch him in action after he has a couple of races under his belt. For Kuala Lumpur hotels, especially popular hotels in Bukit Bintang, log on to HotelTravel.com and check out the Melia Hotel (from US$ 102 per night), Parkroyal Kuala Lumpur (from US$ 115 per night), Ritz-Carlton Hotel Kuala Lumpur (from US$ 160 per night) or the Westin Kuala Lumpur Hotel(from US$ 165 per night).***
Tank Engine Trips
It's only a matter of time before we start seeing fewer flights (see Carbon Carrots), and greater use of trains. But using carbon-offsetting schemes as well as supporting well meaning travel foundations that plant trees that intend to make travellers feel less guilty about train fumes rather than airplane emissions.
Phatravel
Inspired by 'The Biggest Loser' backlash, we believe that travellers will look to pack on the pounds when on holiday in 2010. Fat and carbohydrate levels will skyrocket as hoteliers promote Phatravel using more local products to alleviate concerns about food is flown in from overseas (ibid Carbon Carrots). Guests will compete to earn more face stuffing 'Food Miles' redeemable at the breakfast buffet. Check out Chowhound.com for best available pound packing feeds in your next holiday destination.
Breakations
We predict a continued growth in companies giving stressed out employees extended breaks from work by offering extended sabbaticals and avoiding the unpleasant possibility of having to lay off staff. In theory what could be better than allowing them to go on longer trips to recharge their batteries. With any luck they'll end up employed at a beach resort and never come back.
Crosspackers
Former five-star high flyers will cross over and bring a branded chic to guest houses and bed & breakfast joints. With the age of conspicuous consumption out of favour post-Madoff era, even rich folks are downsizing to cheaper accommodation to avoid being labelled a fat cat banker that went bust. Call it backpacking with a bigger budget and laced with a lot more style.
Alien iPhone Apps
Even thought Virgin Galactic delayed the launch of its first commercial flight from 2010 to 2011 the time to gear up in now. First order of business, download one of the many new Alien iPhone applications: Alien Glyphs, Alien Outpost or Alien Taxi all could come in handy for a spaceflight that will cost a cool US$200,000 per person.
*** All hotel rates are as of 24 December, 2009, priced in US$ and subject to change.
About HotelTravel.com
HotelTravel.com is a leader in worldwide hotel bookings and a pioneer in online customer service, providing the inside track to the best deals and discounts for hotels in more than 100 countries. Founded in 1999, the company's multi-lingual website offers eight languages – English, Chinese, Japanese, French, German, Spanish, Italian, and Korean – supported by a 24-hour customer service centre staffed by native speakers in each language. The company employs over 300 staff with offices in Thailand, Malaysia and China.
###