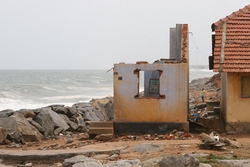 No one tells you grief feels like fear
(PRWeb UK) December 25, 2009
The Tsunami problems go on and on. And CBM's help is still much needed providing practical help*, counselling, grief management and providing small loans to help those displaced by the Tsunami with income generation. *Construction of homes and medical care.
CBM – the overseas disability charity helps 16 million people with disabilities each year.
The huge earthquake of Boxing Day 2004 triggered large waves that spread far and wide causing havoc in the Indian Ocean. In a coastal area like Ramonthuyai, 60 km from Trivandrum, the capital of the Southern India State of Kerala; the huge waves claimed the lives of thousands of people and left thousands
of others homeless.
The waves swept away masses of children playing on the beach on the Boxing Day holiday. And it destroyed a great deal of housing close to the sea. There is much depression amongst the parents and grandparents of the lost children.
Take Paniyamma. She is a 65-year-old grandmother left with the memory of her family washed away in the Tsunami. She lost her two children and three grandchildren to the wave which came out of the blue on Boxing Day. Paniyamma lives in Colachel, a fishing hamlet on the Kanyakumari Coast, South India.
CBM has helped Paniyamma get treatment for her deep depression. The CBM project runs a clinic to monitor the patients who suffered. Paniyamma has been given some money as a grant to help her set up a shop, selling small goods within the resident fishing community. Some people have had houses built for them by CBM, and others have been given fishing nets and small boats to help them get back on their feet.
CBM – in for the long haul!
Madhi, a CBM staff member, says, "CBM is needed here for the long term. This is what separates us from so many of the other organisations which were involved with the relief work."
CBM – the overseas disability charity
CBM has 900 projects in 90 countries, helping 16m. people annually. CBM empowers people to change their own lives.
Visit: http://www.cbmuk.org.uk
Registered charity no: 1058162
All press enquiries: Gill Godber Tel: 0771 511 3017
CBM/Tsunami 5th anniversary 26 Dec 2009:
Mike Davies, former CBM Regional Director for South-East Asia & Pacific, says: "The CBM-funded psychosocial rehabilitation programme in the Tsunami-ravaged Aceh province of Indonesia, has so far unchained over one thousand people with schizophrenia, and got them back into productive roles in their communities. People with schizophrenia are often chained up by their families, to prevent them wandering around and getting abused by other people. CBM support includes the training of community health nurses, and providing them with motorcycles so they can cover greater areas and serve more people. Today, five years after the Tsunami, CBM is one of the few international agencies still active in Aceh, because the process of psychosocial rehabilitation is long-term in nature. It is expected that the local government will have taken over full responsibility for the programme in a few years time. The Indonesian government has been pressing CBM to help them introduce the Aceh model of community mental health into other parts of the country - the fourth most populous nation on earth".
"No one tells you grief feels like fear," Author C S Lewis.
For more info visit: cbmuk website
All press enquiries: Gill Godber Tel: mob: 0771 511 3017 or Viv Ayas 07986 606025
###