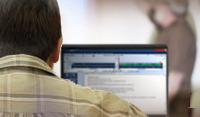 After installing PerfectNotes, [my netbook] became much more useful. Now I take it with me wherever I need to take notes.
Orem, UT (PRWEB) December 25, 2009
PerfectNotes Corporation just announced that their note taking software has been adapted to work better on netbook computers.
These highly portable computers have been gaining in popularity with students, but their reduced capabilities make it impractical to install many popular software applications which may each cost as much as the netbook itself.
The newly released version of PerfectNotes® is designed to be more practical to use on a netbook which typically has a reduced processor speed compared to a full sized laptop.
"Netbook computers are popular because of their low price and small size, but they are short on software that can run on them. As they come, netbooks are really only practical for surfing the Web" says Rachel Rehm, Vice President at PerfectNotes Corp.
"When I got my netbook, I was delighted at the size, but there wasn't much I could do with it. After installing PerfectNotes® note taking software, it became much more useful. Now I take it with me wherever I need to take notes."
Developed by Utah based PerfectNotes Corporation, PerfectNotes® software is designed for laptop, and now netbook use in classrooms and lecture halls. The first-to-market application is useful with or without its ability to make a sound recording.
When a sound recording is permitted and desired, PerfectNotes® software has a unique way of cross linking a real-time sound recording with a visual timeline of the class. This timeline shows when notes were taken, providing a visual guide of the recording. Students can also place labelled bookmarks at key moments to mark parts of the recording they want to instantly review later. The application ensures students leave every class with a dynamic record of what they have heard, thought and, most importantly, missed.
The software is popular among college students, especially those who want a competitive edge. Students find a real benefit in being able to listen again to what the professor actually said, instead of reviewing just their notes. Clarifying misunderstandings early allows the students to study accurate notes, and thereby improve their grades.
The application is available as a downloadable free demo from http://www.perfectnotes.com. It can be converted to the full program for US $29.95, a price consistent with the lower price of netbooks.
###