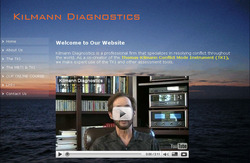 Kilmann Diagnostics is a professional firm that specializes in resolving conflict throughout the world.
Newport Coast, CA (PRWEB) December 28, 2009
Kilmann Diagnostics is a new company, dedicated to resolving conflict throughout the world -- making use of the Thomas-Kilmann Conflict Mode Instrument (TKI). Aside from presentations, workshops, and coaching sessions on conflict management, Kilmann Diagnostics offers an eight-hour, live, online course: Advanced Training in Conflict Management.
The online course is designed for trainers, consultants, mediators, negotiators, project managers, human resource managers, and task-force leaders who want to gain more in-depth knowledge of the TKI, the Myers-Briggs Type Indicator (MBTI), and how such assessment tools can be used for managing complex problems and their many conflicts. In addition, by taking the course, engineers, lawyers, physicians, and therapists will also acquire useful knowledge for more effectively managing conflict-rich settings.
###