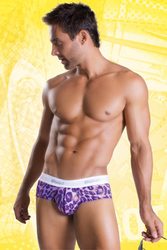 Bought two Speedo Solar 1" swimsuits. Perfect fit great quality as advertised. Size was true. Shipping was prompt. Free shipping definitely the deciding factor in trying Mensuas. I will definitely shop again. - Rob
Parrish, FL (PRWEB) December 28, 2009
Mensuas, a leading retailer of men's underwear and swimwear announces its biggest clearance sale with savings up to 60% during our New Years Clearance Sale now through 1/04/2010. Free Shipping on all orders for US and Canada customers. We offer great international shipping rates.
"At Mensuas, we believe in providing exceptional quality and unbeatable value to our customers. With Mensuas limited-time holiday sale on almost all underwear and swimwear, buyers will find holiday gifts at small prices." Customers wil save 25% off all Unico Underwear, 20% off Clever Underwear, 15% off all Speedo and more. Savings on almost every brand of underwear and swimwear at Mensuas.
Mensuas specializes in quality men's swimwear and underwear. They offer free shipping for their customers in the US and Canada with International Shipping Rates starting at $9.95. All items shipped from Mensuas are tracked from the Post Office to ensure customer's packages can be traced in case of lost or mishandled packages. All packages shipped discreetly to our customers to ensure privacy.
Mensuas customers can chose to pay by credit card or PayPal for their purchases. Once payment is received for their items purchased, order confirmation will be sent to the customer. When an item(s) is ready to ship, a shipping confirmation notice will be sent to the customer. Our new customer service number at (866) 964-8765 is available for customers to place an order, inquire order status, or just ask a question. Our customer service hours are Monday-Friday 10:00 AM to 4:00 PM EST.
Mensuas carries brands you know and trust by 3G, CIN2, California Muscle, Clever, Delio Dietz, Gigo, Greg Parry, Gregg Homme, Joe Snyder, Justus Boyz, Magic Silk, Male Power, ManView Bodywear, N2N Bodywear, Pikante, PPU, Punto Blanco, Sauvage, Speedo, Timoteo and Tulio.
Mensuas has been serving the men's underwear and swimwear market for over 12 years. They are located in Ellenton, Florida, Phone (866) 964-8765.
###