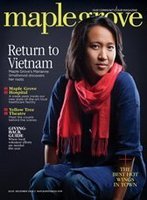 "Impossibilities are obstacles for some but stepping stones for others."
Osseo, MN (PRWEB) December 28, 2009
As FlowSense begins 2010, we reflect on 2009 and are proud of the many positive accomplishments we've achieved over the past year and the impact we've made through social entrepreneurship.
Marianne Smallwood, a FlowSense staff member, was the December headliner of Maple Grove Magazine. A business major from the University of Minnesota, Marianne completed a Fulbright Scholarship in Hanoi, Vietnam and is a graduate student at the Fletcher School of Law and Diplomacy in Boston. When not in school, she works at FlowSense and provides business advice and marketing support. Fulbright Scholar. During the course of the year, FlowSense was selected as a top veteran-owned business in recognition of the economic contribution of veteran-owned small businesses (VOSB) in the United States. SDVOSB Award. In just three years, FlowSense has gained tremendous ground from first providing mechanical services, then expanding to include electrical and general contracting, then adding construction management, and now includes full-service facility maintenance and supply procurement. From an international perspective, Paul Smallwood, president and owner, joined a trade mission to South America In December. Smallwood traveled with over 30 other Minnesotan business leaders from various trades and headed to Brazil and Chile. This trip was a great way for FlowSense to reconnect with old friends, explore opportunities in new countries, cultivate successful networks with new acquaintances, and was great local PR within the community Mission Photo & TV clip. Despite the nation's continued recession, FlowSense made uncommon decisions and hired rather than cut back. While companies contracted throughout the year, FlowSense expanded its portfolio by launching a new business unit that focuses on the distribution of construction and maintenance supply solutions Fedbizsupply. As a final statement demonstrating our contribution to the economy, we set out to build our own new headquarters. We are now located at a brand-new office in Maple Grove, Minnesota. We are planning to host an open house to coincide with the 2010 Chinese New Year (the Year of the Tiger). Mark your calendars for February 12, 2010 and keep a look out for our invitation via email.
FlowSense LLC is an award-winning service disabled veteran owned small business (SDVOSB) and 8(a)/SDB certified contractor providing turnkey building and facility solutions in HVAC services, mechanical & electrical systems, and building maintenance. FlowSense products and services include installation and repair, construction management, and maintenance supplies for diverse industries including private and public sectors, military, defense, and government agencies.
###