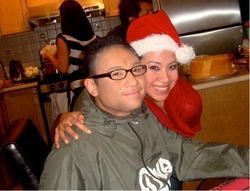 In many ways, this Thursday's vote was an incredible Christmas gift to my brother Eric, who I wish could be here to enjoy it.
New York, NY (PRWEB) December 28, 2009
After a historic early a.m. vote that cleared another hurdle on the way to making health care reform a reality, television journalist and former CNN anchor Veronica De La Cruz is not letting up. While her campaign to support meaningful reform – what she calls "Eric's Law" – just got one step closer to success with the Senate's passage of HR 3950, she acknowledges there are still several challenges in front of those who want real reform.
De La Cruz's brother, Eric, passed away in July while awaiting a heart transplant delayed for years because of an inability to get private insurance covering treatment. His case sparked a grassroots campaign which raised awareness about the problems resulting from a broken health care system while mobilizing thousands of people to rally behind proposed health care reform legislation.
In many ways, this Thursday's vote was an incredible Christmas gift to my brother Eric, who I wish could be here to enjoy it," noted De La Cruz. "The bill passed by the Senate today includes many good provisions which will help many people receive needed coverage and avoid the painful experience of insurance discrimination based on preexisting medical conditions. It is a good start toward something we simply have to do as a nation."
"But at the same time, there is so much more we need to do to deliver on the principles of health care reform," she added. "I don't plan to stop fighting for the strongest possible reform of our health care system – both in the final bill signed by President Obama in coming weeks, and in future efforts on Capitol Hill to improve and fix areas where we feel this legislation comes up short. In any case, today's vote is a monumental achievement and something that I'm proud Eric has a role in delivering to all of those who will benefit from the bill."
De La Cruz and her supporters plan to continue applying pressure to Congress throughout the next few weeks as the provisions in the bill are merged with those in the already approved House bill. She also plans to advocate for reconsideration of a strong public option – in conference, through reconciliation, or in future legislation – as a critical component of any truly affordable, universal health care system.
"Eric's struggle has opened the eyes of so many who have not understood what is really at stake. The whole experience has been extremely painful for our family, but I know that today is a great tribute to him. The day the bill finally becomes law will be Eric's greatest gift."
De La Cruz's "Eric's Law" website is at http://www.ericslaw.com. She can also be followed on Twitter at http://twitter.com/VeronicaDLCruz.
# # #