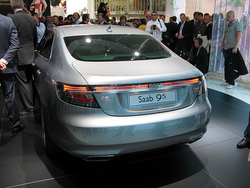 The purpose of this campaign is to let GM know that a lot of people care about Saab. It's a brand with a great history and a true emphasis on quality design.
(PRWEB) December 29, 2009
While General Motors is working on a wind-down plan for Saab, it is also in concurrent negotiations with several parties for a sale of Saab as a going concern. GM has set a date of December 31 to identify a viable buyer or it will commence an orderly wind-down of Saab.
In the midst of this uncertainty, Saab fans have gathered together to support Saab and send a message to GM - sell Saab rather than close it down.
A website has been set up specifically for this purpose - http://www.iwontbuyfromgm.com - where visitors are asked a simple question: will you consider buying a GM product in the future if they close down Saab rather than selling it? The unanimous response in comments to the site indicates that respondents will not consider buying a GM vehicle in the future if Saab is closed down.
The website was set up by Steven Wade, who operates the Saab news and enthusiast website, http://www.saabsunited.com.
"The purpose of this campaign is to let GM know that a lot of people care about Saab. It's a brand with a great history and a true emphasis on quality design. Saab has several new models ready to release, an award-winning efficient factory and a willing customer base. With several buyers for the company in waiting, there really is no reason for GM to wind Saab down" said Steven Wade.
"If GM does wind Saab down, I'm sure they'd like to attract some Saab customers to their other brands. What we're saying here as a community is that if GM closes Saab, they can kiss those customers goodbye forever. If they sell Saab and keep the brand alive, then I'm sure some of those customers would consider GM brands for their second or third household vehicle," Wade added.
The iwontbuyfromgm.com campaign went live on December 24 and has met with an overwhelming response.
"We received over 2,800 comments on the website and over 1,500 members in a dedicated group on Facebook in just three days, with one of those days being Christmas Day. The comments have come from all over the world: the United States, Russia, Sweden, the United Kingdom, Australia, Germany, France, even Israel and Lebanon. There are plenty of Saab owners interested, but many comments also come from owners of other GM brands, as well as some GM employees and dealers. Saab is GM's only global brand, so there is global interest in this outcome.
"The message to GM is that the spotlight is definitely on. People love what Saab represents and they care about what happens to this company. This is a Swedish icon that GM failed to grow, but there's no reason why they shouldn't sell it and allow a dedicated owner to grow the company.
"This is a chance for GM to show some corporate social responsibility. There are 3,400 direct jobs at Saab and around 10,000 Swedish jobs in total that depend on this decision. Add to that the other Saab employees and dealers around the world (including GM's home turf, the United States) and the effect that it will have on Swedish industry as a whole, and Volvo in particular due to supply chain issues.
"I encourage all who may be concerned about the potential closure of Saab by General Motors to visit http://www.iwontbuyfromgm.com and express your concern" said Wade.
About Saabsunited.com
Saabs United is one of the foremost Saab enthusiast and news websites on the internet. It has been operating since February 2005 and serves over 350,000 pages of information per month to readers around the world.
Saabs United is an independent website and is in no way affiliated with Saab Automobile AB or General Motors.
# # #