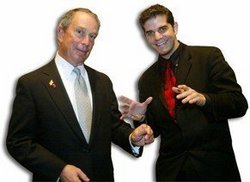 Just like 'The Mentalist' on CBS has the ability to notice insignificant details, draw conclusions and profile people, I feel that I know how to read my employees...
New York, NY (PRWEB) December 29, 2009
After watching the immense growth in the corporate events planning industry in the past few years, CBS "The Mentalist" show makes corporate events entertainment decisions as easy as pie. The Mentalist series on CBS in short is a story about a Mentalist, called Patrick Jane (Simon Baker) who acts as an independent consultant for the California Bureau of Investigation (CBI) based in Sacramento, California. What makes him a top mentalist is the fact that he proved himself over and over again in solving serious criminal activities just by using his mentalism abilities.
"The Mentalist show became such a big hit throughout the world as it has been sold to networks world-wide", says Hezi, a human resources executive in Shamir Optical Industries (Nasdaq: SHMR), who is in charge of producing the corporate events of the firm.
"Many time I hear my employees talk about the different episodes and how amazed they are by the Mentalist abilities. They want to know how to become a mentalist. They want to see mentalist techniques and learn the mentalist secrets. This is why choosing a mentalist to entertain them in their corporate parties was such an easy decision to make" he admits.
But Hezi is not the only one. According to one of the worlds' leading mentalists, Ehud Segev, the corporate event planners can't stop knocking on his door.
"I used to sell my show as a supernatural magic show, because people didn't know what a mentalist was. They would call my act a "magic show" though mentalism is far away from being a magic show," Segev explains. Segev also teaches some of his mentalist secrets on his website, and sells dvds with mentalist techniques that everyone can learn to help ordinary people learn how to be a mentalist.
"CBS new TV show 'The Mentalist' is probably one of the best things that happened to us mentalists around the world. Now - when a corporate event planner calls me he doesn't ask 'what is it you do exactly?' - on the contrary - he requests that I will perform specific mentalism effects!" he says.
CBS pilot episode of The Mentalist had over 15 million viewers in its first airing and only 3 days later more than 7 million people viewed it in its re-airing. On October 15, 2008, CBS ordered a full season of The Mentalist and the episode "Flame Red" that aired on December that year was the highest-rated television show of the week. It broke a record for the show that achieved that distinction in its first season.
"I was a bit worried when I planned this years corporate Christmas event," says Zion Barkley, the CEO of Luxury Electronics Inc. located in Las Vegas, Nevada, "because of a few factors. I didn't want to send out an inappropriate message to my workers and clients as today's economy is not what it used to be. I thought of the implications of canceling this years' corporate event because it seemed like a big expense. I was looking for a corporate event idea that will be affordable and will still incorporate all the classic elements of fun. So I changed my setting and downgraded from a three-course sit-down meal to a buffet, I found a low-rate corporate event venue and reduced the guest list. Then I looked online for corporate events ideas and I saw an ad for a mentalist. If up until a year ago I had no idea what a mentalist is, today, thanks to the new TV show 'The Mentalist' I was enthralled. This was e-x-a-c-t-l-y what I was looking for. It made my choice of corporate entertainment so easy! So I surfed to the mentalist website and after 5 minutes I was already booking a mentalist for my corporate Christmas event."
Corporate events may be necessary to the interests and morale of employees, especially when it comes to organizations in the United States which made their annual parties the highlight of their calendars. The event planners understand the importance of producing an affordable party while keeping it refreshing, unique and unforgettable. They understand that you may choose to save money on food and beverages, venues, and even reduce guests lists or choose not to invite clients but only employees. But the bottom line in every successful corporate event is the entertainment that will make the event so different then others.
Magicians, keynote speakers, standup comedians, all are great options. But today, when 'The Mentalist' show offers such a great form of entertainment, that wasn't previously as known to the general public as it is today, the choice of a corporate entertainer becomes extremely easy.
"While the economic climate of today may serve as a very disturbing experience when it comes to producing my events, I simply cannot forget the great times we had together throughout the years in our corporate events. I will never cancel an annual party, and I know that a mentalist would be a must have in every special engagement I produce from now on," said Hezi, "and the reason is simple: just like 'The Mentalist' on CBS has the ability to notice seemingly insignificant details, to draw conclusions from them and profile people, I feel that I know how to read my employees. If I decide to cancel their upcoming corporate event - they will be so disappointed and our corporation will carry the consequences."
###