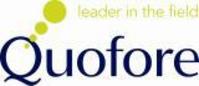 We are constantly searching for ways to improve our workers' day-to-day performance, and the retail execution that happens through the sales and delivery aspects of our business must perform to the same exceptional standards as our brands
Atlanta, GA (Vocus) December 29, 2009
In order to advance their vision to increase the consumers' in-store shopper engagement, Schwan's Consumer Brands North America, Inc. enlisted Quofore (formerly O4 Corporation) to provide on-demand software that would aid workers in their collection of in-store business intelligence as well as pre-order, delivery and merchandising tasks. By early 2010, more than 1,500 workers will be outfitted with Quofore's mobile application and Management Suite application.
According to Danny Borndal, senior director of technology at Schwan's Consumer Brands North America, goals of the software implementation span key sales tasks, from improved customer service and store audits to increased control in managing field-level activities, and increased velocity in information flow to and from the field for swift decision making among management. Schwan's Consumer Brands North America offers more than 200 products to retailers throughout the Americas. As such, the need for a flexible, high-performing technology platform could not be greater, said Borndal.
"We are constantly searching for ways to improve our workers' day-to-day performance, and the retail execution that happens through the sales and delivery aspects of our business must perform to the same exceptional standards as our brands," said Borndal. "Because our personnel oversee such a massive volume of products and have very defined tasks that demand timely communication, analysis and standardized processes, Quofore's sophisticated solution was a natural choice for us."
Schwan's Consumer Brands may be best known for frozen-pizza brands including Red Baron®, Tony's®, and Freschetta® products. Still, the company continues to build upon its other product lines including Mrs. Smith's® and Edwards® pies, Asian Sensations® appetizers and Larry's® potatoes. Distribution of information to the field about each of these products, at any given time, is a central activity that requires "total cohesion," added Borndal.
"One of the key reasons that Schwan's Consumer Brands selected us," said Scott Foernsler, senior vice president of sales at Quofore, "was our ability to satisfy their requirement to effectively capture the information that retail employees are collecting in the field and turn it into insights they could act on. While large consumer goods companies are typically data-rich, the ability to turn this information into actionable decisions is imperative, and our mobile application enables this process."
The global nature and inherent flexibility of the Quofore product and platform ensures that Schwan's Consumer Brands can expand the implementation throughout the organization with minimal effort. This allows for the local investment to be leveraged globally across the organization, added Foernsler.
"Our ongoing work with industry-leading consumer products companies continues in this new engagement with Schwan," said Foernsler. "Their goal is to be the best frozen-food company on the face of the earth, and we're excited about the opportunity to help them achieve that in the field."
About Quofore
Founded in 1998, Quofore (formerly O4 Corporation) is recognized as the international leader in mobile software solutions for field representatives in consumer products companies. Companies using Quofore solutions are able to drive competitive advantage through their management and execution of field sales, merchandising, promotion, and direct delivery activities. Incorporating world's best practice, Quofore solutions reflect the experience and domain expertise gained from over a decade of specialized industry focus, working with customers in more than 20 countries in both modern trade and emerging markets. Quofore markets its software worldwide through its regional offices in the Americas, EMEA and the Asia Pacific region, and works closely with its partner ecosystem to service and support its customers worldwide. Quofore has delivered solutions to customers across six continents including leading global corporations such as Procter & Gamble, Cadbury, Brown-Forman, Dyson and Black & Decker, as well as numerous small to midsize companies. For more information, visit http://www.quofore.com.
About The Schwan Food Company
The Schwan Food Company is a privately held, multibillion-dollar business that manufactures and markets fine frozen foods through home-delivery, retail-grocery and food-service channels. Its many popular brands include Red Baron®, Tony's®, and Freschetta® pizza, Mrs. Smith's® and Edwards® desserts and Schwan's® fine frozen foods. Headquartered in Marshall, Minn., the company's subsidiaries employ about 18,000 people in the United States and Europe.
###