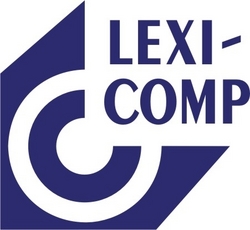 Hudson, OH (PRWEB) December 29, 2009
Lexi-Comp, Inc., a leader in providing drug and clinical information for healthcare professionals and health information systems, has received the ranking of 80 on the 2009 Weatherhead 100 list that showcases the fastest growing companies in Northeast Ohio. Qualifying companies must show consistent growth over the last five years and a strong entrepreneurial spirit that provides economic leadership in the local area. The Weatherhead 100 list, established in 1987, is highly regarded throughout the region and awards organizations for their hard work, commitment to excellence, and drive to succeed. Winners are objectively determined annually using a ranking system developed by the Weatherhead School of Management at Case Western Reserve University.
Lexi-Comp, a Hudson-based, privately-owned company, was founded in 1978 and has grown from a start-up company producing printed laboratory manuals to a provider of drug reference and clinical decision support information delivered electronically to healthcare professionals around the globe. Chairman and founder, Robert D. Kerscher, built the business with a strong focus on providing exceptional customer service, listening to client feedback, and responding to the marketplace by delivering an exceptional product. This philosophy has served the company well and has been upheld through the transition of strategic management and oversight of the company's daily operations to his son, Steven M. Kerscher.
Having grown from 90 to over 130 employees in the last 5 years, Lexi-Comp upholds a corporate culture focused on serving the needs of its employees and retaining exceptional talent. This philosophy earned the company recognition earlier this year as one of Northeast Ohio's 99 great workplaces for top talent.
For more information about Lexi-Comp, Inc. and career opportunities available, visit http://www.lexi.com/home/careers/.
About Lexi-Comp
Lexi-Comp, Inc. provides clinical information solutions to the healthcare industry, publishing point-of-care content utilized in both in-patient and out-patient settings. These advanced resources help improve patient outcomes, medication safety, and workflow efficiency. Pharmacotherapy knowledge areas include drug information for adult, pediatric, and geriatric populations; medication interactions; laboratory tests and diagnostic procedures; pharmacogenomics; poisoning and toxicology; dentistry; infectious diseases; and patient education. Over 500,000 clinicians worldwide access Lexi-Comp's content via the Internet, mobile devices, and through integration with health information systems. An extensive library of print titles is also available.
To learn more about Lexi-Comp's clinical information solutions, call 800.837.5394, 330.650.6506, or visit http://www.lexi.com.
###