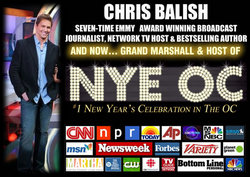 70,000 sq.ft of space at the Hilton is converted to create the NYEOC experience
Newport Beach, CA (PRWEB) December 30, 2009
NYEOC party will be attended by 5,000 beautiful guests and broadcast Live on the web to over one million viewers. The party that's been 10 years in the making is the only mega-event in Orange County. We are inviting the world to see how The OC celebrates New Year's Eve.
NYEOC is the culmination of several months of hard work from the creative minds of Ones We Love. The party features seven different party areas and two levels. The top level is completely dedicated to VIP and has Live Jazz and DJs spinning House, Hip-Hop and Club Remixes.
The party takes place at two hotels. The Hilton Orange County / Costa Mesa located at 3050 Bristol Street and the newly renovated Hotel Hanford across the street at 3131 Bristol Street in Costa Mesa. Doors to the main event open at 8:00pm. NYEOC is 21 & Over and proper attire required. Both hotels are located within walking distance of the internationally famous shopping center, South Coast Plaza.
Revelers will experience multiple party areas, an incredible lineup of live entertainment and disc jockeys, a designer fashion show and a balloon drop at Midnight. After the main party at the Hilton ends, guests can attend the After Hours party at the Hotel Hanford that goes until 5am. The Hotel Hanford also offers a breakfast buffet from Midnight until 3am.
EVENT OVERVIEW:
The party takes place in Seven different ballrooms, spread out over two levels (Level One is exclusively VIP). Over 70,000 sq.ft of space at the Hilton is converted to create the NYEOC experience. Guests must be 21 or older to attend and proper attire is required.
Tickets prices range from $60 - $250 and the event sells out every year. Discounted hotel rooms are also available at the Hilton and Hotel Hanford.
MAIN BALLROOM - Top40, Videos & Mash-Ups
NYEOC Fashion Show & Bikinis in Winter Swimwear Show: (Main Ballroom)
Top fashion and accessories designers and retailers will showcase 2010 fashions at the NYE OC Fashion Show. Current fashion show sponsors include Java Jean Bar, Everything but Water, Velvet Angels and RSZT Clothing.
ROOM 2 - House Room
The Focus DJs will take full control of your body, mind and soul with some of the best House, Electro and Trance music. Then at Midnight, Von UKuf will close out the night with hard house and original mixes of house music.
ROOM 3 - Latin Lounge (Latin NYE)
We've added a feature to NYEOC by creating a room located in the underground space at the Hilton. Over 10,000 sq.ft will be converted into the largest Latin American NYE Celebration in California. Latin DJs Woody and DJ Cess (on loan from Super Estrella 107.1) will spin the best Latin hits, Reggaeton and Salsa music.
ROOM 4 - Retroactive Room
If you find yourself feeling nostalgic, you can visit the Retro Room where DJs will play 70's, 80's and 90's rock, hip-hop and hits from days gone by. This will bring back memories of the "good ol days" as you prepare to for some "great new days"
ON THE VIP LEVEL
There are two VIP ultra lounges, fully furnished with VIP couches. The VIP Level also features a Play-for-fun casino with fun casino games.
VIP Room 1 - House & Electro
The House VIP Room features ARASH! He's one of the most popular house DJs in Orange County. He spins at every major electronic event in So Cal. Also featured in the House VIP room is DJ Kritt and Bongoman from Northern California.
VIP Room 2 - Top40, Hip-Hop & Live Jazz (8pm-10pm)
We took a great VIP room and made it even better by adding a five piece Jazz band from 8pm-10pm. Guests will enjoy the sounds of the Eddie Reed Jazz Quintet. At 10pm, DJs will take over and spin the best top40 and hip-hop for an audience of the elite.
GENERAL ADMISSION TICKET Includes:

Access to all General Admission party areas.
NYE Party Favors for the first 2,500 guests.
VIP TICKET Includes:

Access to Exclusive VIP Level with two Ultra Lounges
Access to VIP play for fun Casino Lounge
Express Entry (Separate VIP line)
Complimentary Champagne from 8pm - 10pm
NYE Party Favors.
DON'T DRINK & DRIVE - GET A HOTEL ROOM
We promote this message on ALL our marketing materials. It's important that we have a great time, but we also encourage and promote responsible consumption.
HOTEL ACCOMMODATIONS (HILTON):
For questions about rooms call the Hilton Costa Mesa at (714) 540-7000. Use the group code (NYE) to get a special rate of $289/night. (Subject to Availability).
HOTEL ACCOMMODATIONS (HOTEL HANFORD):
For questions about rooms call the Hotel Hanford at (714) 557-3000. Use the group code (NE1) to get a special rate of $149/night. (Subject to Availability).
Notes for Editors:
About Ones We Love:
Ones We Love (OWL) is the largest producer of nightclubs and special event promotions in North America. OWL promotes events in major cities across the U.S. and is responsible for the marketing and production of several themed events and major nightclub promotions including New Year's Eve OC and Halloween OC. Ones We Love is headquarted in Newport Beach - http://www.OWLUS.com.
About Chris Balish:
Chris Balish is a seven-time Emmy Award winning TV host, and on-air contributor for NBC's Today Show, The Doctor Phil show, EXTRA, MSNBC, CNN, TV Guide Network, American Movie Classics, and Discovery Planet Green. He is also a bestselling author of two books. Chris has appeared on more than 800 radio and TV stations, and in more than 140 magazines and newspapers, including Newsweek, Sierra, ABC News, National Public Radio, Sirius Satellite Radio, Forbes, The New York Times, Washington Post, and many more. http://www.ChrisBalish.com.
###