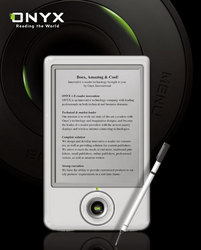 Portland, OR (PRWEB) December 29, 2009
Dulin's Books, an independent ereader retailer from the Pacific Northwest, announces the newest addition to its lineup of innovative digital readers, the Boox 60 by Onyx International.
The Boox 60 ($349) is available now for ordering and deliveries will begin in 2 weeks. International shipping is available.
The Boox 60 is the first effort from new ereader company Onyx International. First exhibited at Cebit 2009, Boox boasts a 6" inch VizplexTM e-ink display, 532MHz processor, up to 16 shades of gray, 512mb of memory expandable with SD/SDHC cards up to 32GB. The replaceable 1600mAh battery allows for 8000+ page turns.
Support for a wide variety of formats including EPUB and PDF, MOBI, HTML, TXT, PDB and CHM for reading. Image formats JPG, BMP, PNG, GIF and TIFF. MP3 for listening to music or audio books and Text To Speech capability. DRM EPUB and PDF support is via Adobe Digital Editions.
Advanced PDF support includes zoom and reflow. Using the included stylus, you can select specific sections or images within the PDF to zoom. Boox supports Table of Contents and internal Hyperlinks.
Wacom touch technology embeds the touch layer below the e-ink screen so readability is not affected. The included stylus allows you to sketch and make notes, select and highlight text, select areas for zooming and much more.
WiFi and a Webkit browser optimized for the e-ink screen allow you to surf the web, read the latest news and blogs and download content. To increase battery life the WiFi can be easily disabled.
Boox 60 comes with white leather cover, USB 2.0 cable, Wall charger, and a quick start guide
For more information or to order the Boox 60 visit http://www.dulinsbooks.com.
Dulinsbooks.com was formed in 2009 with the idea of showcasing well-designed, innovative ereaders that are easy to use and aren't locked to one book seller. In 2010 dulinsbooks.com will expand by adding eBook content and new devices. http://www.dulinsbooks.com/
Onyx International is a group of dedicated designers and engineers whose goal is to bring exceptional reading experience to the consumers, to enable new business models for the publishers, and to revolutionize the publishing industry, by creating state-of-the-art e-readers and distribution platform with the newest display and communication technologies. Visit Onyx at CES Booth 12402. http://www.onyx-international.com/
###