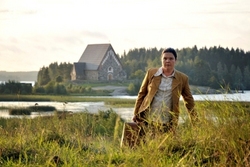 Where Nordic Film winters in Southern California...
Los Angeles, CA (PRWEB) December 30, 2009
The 11th Scandinavian Film Festival L.A. January 9,10,16,17 begins a second decade of Nordic film "in residence" at the Writers Guild Theater (135 S. Doheny at Wilshire) in Beverly Hills. The festival offers an annual immersion into the world of Nordic film during the winter "film season" that makes its way through festivals and awards in the build up to Academy Awards nominations and the Awards themselves. The festival focuses on work of Nordic filmmakers from Denmark, Finland, Iceland, Norway, and Sweden including Nordic Oscar contenders, additional current features, and a sampling of shorts and documentaries.
The opening weekend Jan. 9,10 features Oscar contenders from Sweden, Finland, and Denmark. Saturday Jan. 9 starts with a documentary "This is Hollywood?" which chronicles the experiences of two Finnish film makers pitching their first screenplay in Hollywood. In the afternoon a Swedish short "The Man with All the Marbles" leads into the Swedish Oscar submission "Involuntary". The opening gala/buffet precedes Finnish Oscar entry "Letters to Father Jacob", giving a Finnish flavor to festival opening ceremonies. Additional films screen throughout the festival run. On Sunday evening Jan. 10 Denmark's Oscar hopeful "Terribly Happy" lights up the screen followed by a special reception sponsored by the Danish Embassy. Icelandic Oscar submission "Reykjavik Rotterdam" and Norwegian Oscar contender "Max Manus", which is the festival closing film, screen in the second weekend of the festival Jan 16,17. A complete schedule of films is available online.
"We've been called the place 'where Nordic film winters in Southern California'." says festival Founder/Director Jim Koenig. "Eager to sample a new cine-menu of Nordic film, our devoted audience of film lovers, industry professionals, and Nordic ex-pats has also witnessed six Academy Award 'Best Foreign Language Film' nominations, as well as nominations and wins in various categories. 'King Oscar' or not! Nordic films are captivating audiences all over the globe. There are around eight hundred films made in Europe each year. Eighty of those films are from the Nordic countries! That's 10% of all European film." This is our chance in the "film capital" of the world – to show what the fuss is all about.
The festival has become an important annual opportunity for Hollywood to keep up with what's going on in Scandinavian film. Nordic film makers both in Europe and working in the United States have enjoyed the fertile networking and "introduction" opportunities the festival affords. "Certainly there are festivals—big ones—that include Nordic films." says Koenig. "But the focus of our festival offers unique opportunities for explorers as well as devotees of international cinema, European cinema, and Nordic film."
As it starts a second decade, the festival offers audiences a chance to compare, contrast, watch talent develop and top talent emerge. "It's like watching the cream rise to the top. Some of our audience has been watching with us for a decade! For all, there are discoveries to be made. Scandinavian film has a reputation for being dark and somber. But we've laughed a lot too, and cried. We go from popcorn to Prozac - from polar to bi-polar. And in the course of heart-strings resonating like a Finnish Kantele, we've learned that things can get hot! There's plenty of steam and it's not all from a scoop of water on the rocks in a sauna scene. We've seen a lot — some entertaining but disposable, some profound and enduring."
Parent organization of Scandinavian Film Festival L.A. is the American Scandinavian Foundation of Los Angeles. Support for the festival includes individuals, organizations, and corporate sponsorship with the assistance of The Danish Film Institute, Swedish Film Institute, the Norwegian Film Institute, the Finnish Film Foundation, and the Icelandic Film Centre. The festival is proud to partner with ELMA — European Languages and Movies in America. The Santa Monica based foundation is a major sponsor, joining the American Scandinavian Foundation of Los Angeles, SWEA and others in the effort to offer Nordic film culture to the Los Angeles/Hollywood cultural scene.
###