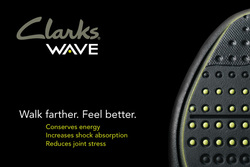 We are so pleased to offer the Clarks Wave line of shoes
Sunnyvale, CA (Vocus) December 29, 2009
Footwear etc., a well-established retailer of high quality, comfort footwear for over 23 years, announced this week, Clarks' new men's and women's line of shoes, Clarks Wave. The new Clarks Wave line is available now in fifteen styles online and in Footwear etc. retail stores.
"We are so pleased to offer the Clarks Wave line of shoes," says Andrew Monarch, District Manager for Footwear etc. "The Clarks brand and Footwear etc. share core values that include commitment to comfort, quality and style."
The Clarks Wave line of shoes features a unique Rocker Sole designed to enhance the experience of walking, which minimizes the impact of each step resulting in less fatigue. With many distinctive features designed to help you walk smoothly, the new Clarks Wave shoes could help you walk even farther. Each step begins with the Heel Kicker, which initiates smooth forward motion. The Concave Heel increases shock absorption, reducing stress on joints. The Rocker Sole then smoothly rocks you forward, reducing the amount of fatigue on your body. Finally, the Toe-Off guides your foot, enhancing natural walking motion. Walking will feel more effortless from heel to toe.
Fifteen styles of the Clarks Wave line have been added to Footwear etc.'s website at http://www.footwearetc.com/ Clarks-Shoes/ [footwearetc.com] and are available now for purchase online and in stores. Among the featured styles for men is the Clarks Wave Path in Black Leather and Chocolate Nubuck – this stylish slip-on features a full-grain leather upper and is soft and flexible.
For those who prefer a non slip-on shoe, the Clarks Men's Wave Rotate available in Brown and Dark Grey Nubuck, features tonal overlays and stitch detail in a quilted design. Currently, this style is available for purchase online only.
The Clarks Women's Wave Cruise, available in Stone Nubuck, Olive Nubuck, and Brown and Black Leather, features tonal overlays and double stitching detail that creates an elegant look. It has an adjustable strap with a hook and loop closure for a secure feel.
The Clarks Wave line offers maximum comfort with innovative features without breaking the bank. Each style features:

Removable dual-density Ortholite® foot bed with removable EVA heel support, radius heel, fulcrum point and higher toe spring reduce step shock while helping to propel you forward.
Internal EVA heel wedge positions your feet for easier walking while allowing for the use of custom orthotics.
Injected EVA outsole with carbon rubber pads at key strike points further improves the walking experience.
Prices range from $99.99 for Women's and $120 for Men's.
The Clarks brand, with its long-standing heritage of innovative, high quality comfort shoes, since 1825, fits perfectly with Footwear etc.'s commitment to offering high-quality, comfortable and stylish footwear.
About Footwear etc.
Footwear etc. is a well-established, family-owned business, headquartered in Silicon Valley, CA since 1986. The company is committed to improving customers' quality of life by offering brand name products that demonstrate their belief in the need for healthful, comfortable and fashionable footwear. Footwear etc. operates eight retail stores located throughout the Bay Area and also offers their products on their website and catalog. To find out more, please visit footwearetc.com.
###