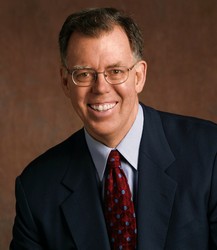 The primary cause for this Perfect Nutritional Storm has been government subsidies for corn and soybean crops that have created an abundance of cheap refined carbohydrates and vegetable oils that, when combined, increase diet-induced inflammation
New York, NY (PRWEB) December 29, 2009
In an upcoming talk at New York City's famed 92nd Street Y Jan.19, Dr. Barry Sears, author of The Zone, a #1 New York Times bestseller, and his most recent book, Toxic Fat, will explain why America is in the midst of a "Perfect Nutritional Storm" and its implications on any envisioned savings coming from the current health-care reform debate.
"In the past 30 years, America has been caught in a perfect nutritional storm that dramatically increased inflammation in Americans due to growing diet-induced hormonal imbalances. It is this increased inflammation that is the underlying cause of our current epidemics of obesity and diabetes and acceleration of chronic disease," said Dr. Sears.
"Health-care reform must ultimately begin in the kitchen because of the hormonal impact of food and how those hormones can affect our genes. We need to reverse the current pro-inflammatory trend with anti-inflammatory diets," said Dr. Sears. "Today's primary health-care concerns, such as obesity, diabetes, heart disease, cancer, and Alzheimer's are ultimately driven by dietary-induced inflammation."
Dr. Sears, who is the founder of Zone Labs, believes that radical changes in America's food supply have resulted in a constant battle between the hormones generated by the food we eat and the expression of our genes.
"Obesity is not a consequence of sloth and gluttony, but rather an adverse interaction of our current diet with our genes," he said.
A global authority on the hormonal effects of food, Dr. Sears will discuss how our increasingly pro-inflammatory diet has caused activation of a fat-trap in genetically predisposed individuals, but also increases hunger by changing brain hormone levels that override normal appetite suppression.
"The primary cause for this Perfect Nutritional Storm has been government subsidies for corn and soybean crops that have created an abundance of cheap refined carbohydrates and vegetable oils that, when combined, increase diet-induced inflammation," said Dr. Sears.
"Dietary-induced inflammation can activate genes in people who are genetically predisposed to gain weight," he said. "This accounts for about 70 percent of the U.S. adult population. Once that happens, weight gain occurs with relative ease and is difficult to reverse."
In his lecture at the 92nd Street Y, Dr. Sears will discuss the relatively simple dietary interventions necessary begin to reverse this diet-induced inflammation. He will also speak about the consequences for the future of American health care if we don't.
In addressing the 92nd Street Y, Dr. Sears will join a distinguished list of Y speakers, including Microsoft's Bill Gates, famed directors Oliver Stone and Francis Ford Coppola, former U.K. Prime Ministers Tony Blair and Margaret Thatcher, entertainers such as Paul McCartney and Robert Redford, authors from T.S. Eliot to Norman Mailer, and as an array of scientists and world leaders.
Dr. Sears will speak at the 92nd St. Y (Lexington at 92nd St.), New York, Tuesday, Jan. 19, at 6:30 p.m. Tickets are $18, $8 members. To order tickets or for more information, call 212-415-5500 or go to http://tinyurl.com/ylhcps2.
Dr. Sears is an international authority on the hormonal responses induced by our diet. His books have sold more than five million copies in the United States and have been translated into 22 languages. More information is available at http://www.zonediet.com and http://www.drsears.com.
###