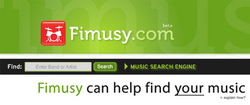 Fimusy lets users enjoy music videos, tracks, photos and band news - As well as vote for their favourite bands and tracks
(PRWEB) December 31, 2009
Fimusy.com is a brand new website launched to help music lovers everywhere find the music and musical information that they want to. With so much content all over the internet it can be difficult for users to find just what it is they want, Fimusy.com aims to break through that by providing all the information in one place.
It integrates everything that music lovers could want. For example features include being able to stream music videos chosen from YouTube for each band, making searching around now a breeze. MP3's can also be streamed directly and there is a large amount of information on each artist and band.
Fans are also able to buy the music directly from some of the most respected and trusted retail sites on the internet, sites such as Amazon and iTunes. This means that they can test out music and, if they like it, buy it from the retailer – keeping fans, bands and retailers alike happy, something the internet has struggled to do since file sharing became popular.
It is not simply a portal for music playing and buying though, far more than that it is a centre of everything that is happening in the world of music. Fans can keep up to date with the latest music news via the Fimusy.com news service, meaning they will never lose out on news or gossip.
Fans are also encouraged to interact, with polls available for them to vote on their favourite artists and bands, which in turn helps influence the site's development.
This is just the start of this latest step in the Internet music revolution though. Further developments of the website are planned and in production, including the opportunity to help you find what others are listening to.
Taking the results of the polls users will be able to choose a genre of music and then listen to the 25+ most popular songs. This means that you will always be able to keep up to date with what is hot in a genre – simply by clicking a button.
Fimusy.com has big plans and is indicative of the way that music is going, connecting fans with other fans, bands, artists and music lovers everywhere in a manner that allows them free access and to be able to buy the products and songs that they want.
Music on the internet is becoming a legal option, and Fimusy.com is a leader in this revolution.
###